Broccoli Casserole
From the Kitchen of Willa Dean Bonnell Spiker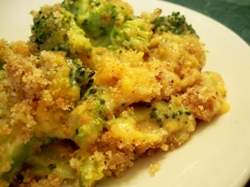 INGREDIENTS:
2 family size bags of frozen broccoli floret's
1/2 cup sugar
1 stick butter, sliced into pats
1 package Velveeta cheese, sliced
2 sleeves Town House Crackers, crumbed
DIRECTIONS:
Cook broccoli in sugar until tender. Drain well. Melt 1/2 stick butter in bowl. Add crackers, mixing well until crumbs are moistened. In a large rectangular cake pan, layer 1/3 broccoli, 1/3 of the remaining butter pats, 1/3 of the cheese slices and 1/3 of the crumbs. Repeat layers. Bake for 30 minutes at 375 until crackers on top are browned and cheese is bubbly.