The Kitchen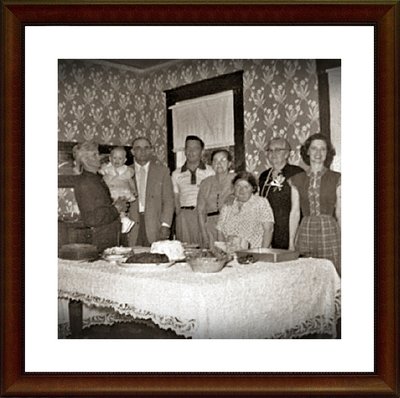 The kitchen has always been the beating heart of the old house, a gathering place where the dawn and the dusk of daily life converged around a wooden table. The sound of quiet conversation intermingled seamlessly with the sound of clanging pots and pans. Here Gay Spiker often served a big helping of anecdotal wisdom along with her evening meal.
Generations of Spiker men and women have followed Gay's lead, serving up tradition as well as culinary fare. And there's no better way to sample a bit of it all than at the Spiker Family Reunion.
The family farm in Oxford, WV is the setting for the annual Spiker Family Reunion each Memorial Day weekend. Of the many traditions we celebrate on that Sunday, the potluck is one of our favorites. Some of the menu has changed over the years but there are a few dishes that have become "staples" at our annual feast. In fact, long-time favorites, such as Aunt Dean's homemade noodles, became synonymous with the reunion itself.
We believe it's time to finally share the Family Secret Recipes.
Like private detectives searching for clues, we've leafed through scores of family-created cookbooks and scoured through box after box of old recipe cards to discover the secrets of our favorite menus. Yellowed with age and often stained with remnants of the ingredients used to create the dishes, the hand-written pages have been lovingly restored here for all generations to enjoy.
Browse through our Recipe Cards to see if one of your personal favorites is listed. Then be sure to add a few recipes of your own.