Chocolate Chip Oatmeal Cookies
From the Kitchen of Willa Dean Bonnell Spiker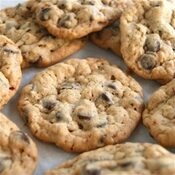 INGREDIENTS:
2 1/4 cups flour
1 tsp baking soda
1 tsp salt
1 cup shortening
3/4 cup firmly packed brown sugar
3/4 cup white sugar
2 eggs
1 tsp hot water
1 cup nuts
2 cups oats
1 package chocolate chips (6 oz)
1 tsp vanilla
DIRECTIONS:
Sift together the flour, soda and salt in a large bowl. Set aside. In a separate bowl, cream together shortening and sugar. Add eggs and hot water. Add the flour mixture, oats, chips nuts and vanilla. Mix well. Drop by spoonfuls on cookie sheet. Bake at 375 until slightly browned (check after ten minutes).
COMMENTS/NOTES:
Makes about five dozen cookies. Freezes well.