Christmas Pickles
From the Kitchen of Geneva Spiker Haught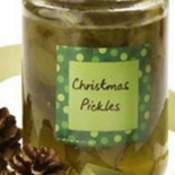 INGREDIENTS AND DIRECTIONS:
1 quart dill pickles, cut any way you like
Drain all liquid off.
Put back in jar.
Add 1 1/4 cups sugar
1 tsp. celery seed
Medium size onion, chopped fine
3 tablespoons horseradish
3 tablespoons vinegar
Put all back in jar and shake well to dissolve sugar.
Ready to eat in 3 to 5 days.
COMMENTS/NOTES:
Bobbi Conley says she has made this recipe many times (using cider vinegar) and confirms it is delicious. "Even people that dislike horseradish LOVE these pickles. Of course, we don't tell them about the horseradish until later."