Dill Dip
From the Kitchen of Willa Dean Bonnell Spiker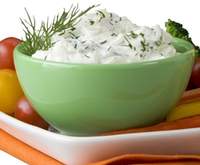 INGREDIENTS:
1 Cup mayonnaise 1 Cup sour cream
1 TBS dill weed (or more to taste)
1 TBS parsley flakes
1 TBS chopped onion
garlic powder (to taste)
dash of salt
DIRECTIONS:
Mix all ingredients in a bowl. Chill for one hour. Serve with crackers, chips, vegetables or as a dip for beef fondue.