Gary's Grilled Chicken
From the Kitchen of Gary Conley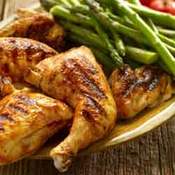 INGREDIENTS:
1 1/2 cup firmly packed brown sugar
2 1/2 tsp ground coriander
2 1/2 tsp ground cardamom
1 tsp ground cinnamon
1 tsp onion powder
2 tsp garlic powder
1/2 tsp red pepper seeds
salt and pepper, to taste
8 chicken leg quarters
DIRECTIONS:
Combine all dry ingredients in a bowl. Mix well. Cover chicken with this fragrant rub (both under and on the skin). Store in fridge at least eight hours or overnight (the longer, the better). Grill over charcoals until chicken is done.