Oregon Apple Pudding w/Butter Sauce
From the Kitchen of Geneva Spiker Haught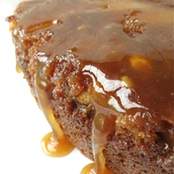 INGREDIENTS:
Cake:
3 eggs, beaten
5/8 Cup shortening (1/2 cup + 2 tablespoons)
2 1/2 Cups sugar
1 tsp salt
1 tsp nutmeg
1 tsp cinnamon
2 1/2 Cups flour
2 1/2 tsp baking soda
2 1/2 Cups apples, diced
Sauce:
1 1/4 Cup sugar
1/2 Cup + 1 TBS oleo
5/8 Cup evaporated milk (1 small can)
1/2 tsp vanilla
DIRECTIONS:
Cake:
Cream shortening, sugar, salt & spices in a large bowl. Add beaten eggs. Beat until light and fluffy. Sift flour and soda. Add to creamed mixture. Add apples. Bake in 13x9x2 pan at 350 for 45 minutes.
Sauce:
Combine all ingredients in a double boiler. Heat until well mixed. Serve over cake.
COMMENTS:
The butter sauce was stored in a jar in the refrigerator. Aserving of the cake was sliced and warmed in the microwave. The warmed butter sauce was poured over top.