Cathy's Bowtie Pasta Salad
From the Kitchen of Cathy Spiker Gregis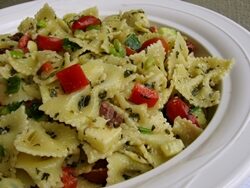 INGREDIENTS:
1 box bowtie pasta
1 small bottle Zesty Italian bottled dressing
1 green pepper, cubed
1 cucumber, cubed
1 TBS garlic salt
2 TBS olive oil
1/2 cup sugar
1/4 cup vinegar
DIRECTIONS:
Cook pasta according to directions on box. Drain and cool. Add Italian dressing, stirring well. Add fresh vegetables. Add to taste, remaining ingredients. Stir well. Refrigerate overnight. Serve cold.