Adelene's Potato Casserole
From the Kitchen of Adelene Maxson Spiker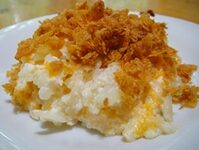 INGREDIENTS:
2 large bags of frozen, shredded hash browns, defrosted
1/2 stick margarine
corn flakes*
1/2 Cup onions, chopped
1 can cream of chicken soup
1 can cream of mushroom soup
1 tsp garlic salt
8 oz shredded cheddar cheese
1 pint sour cream
2/3 Cups milk
DIRECTIONS:
Melt margarine in 9x15 baking pan. Pour out most of the butter into a separate bowl and add corn flakes. Press hash browns into buttered pan. Combine all remaining ingredients and pour over potatoes. Sprinkle top with the buttered corn flakes.
Bake at 350 for 1 hour or until mixture is bubbly, potatoes are fork-tender and flakes are browned.
Comments/Notes:
Use as many corn flakes as you need to cover the casserole. Flakes may be slightly crushed or left whole.