Scotcharoos
From the Kitchen of Geneva Spiker Haught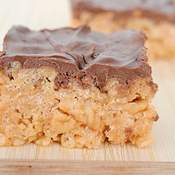 INGREDIENTS:
1 cup sugar
1 cup light corn syrup
1 cup creamy peanut butter
6 cups Kellogs Rice Krispie Cereal
6* ounces butterscotch baking chips 6* ounces milk chocolate baking chips
DIRECTIONS:
Combine the sugar and corn syrup in a large, heavy saucepan. Cook over moderate heat until the mixture begins to bubble. Remove from heat and stir in peanut butter. Once the peanut butter is melted, add cereal, stirring well to coat. Immediately press the mixture into a buttered, 9x13 pan. (Don't press too hard or you'll crush the cereal. Just try to get the top level.)
Melt the chips in a double-boiler or in the microwave, according to the directions on the package. Stir well to combine. Spread the mixture evenly over the top of the cereal.
Once the chocolate has cooled, cut into bars then serve.