Spinach Salad
From the Kitchen of Bobbi Spiker Conley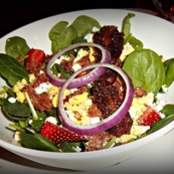 INGREDIENTS:
Salad
1 package baby spinach
1 package bacon, fried and chopped
3 boiled eggs, peeled and chopped
3 slices Swiss cheese, cut into bite-sized pieces
3 button mushrooms, sliced
cherry or grape tomatoes
black olives, pitted and sliced
1 medium red onion, sliced
Dressing
1/3 cup red wine vinegar
1/2 cup sugar
3 TBS ketchup
garlic power, to taste
salt and pepper, to taste
1 cup canola oil
DIRECTIONS:
Salad
Combine ingredients in a large salad bowl. Top with dressing and serve.
Dressing
Combine first five ingredients in a food processor or blender. Slowly drizzle in the oil until well blended.