Gracie's Sweet Potato Orange Cups
From the Kitchen of Gracie Gurdle Spiker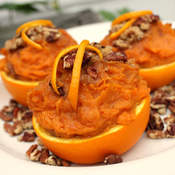 INGREDIENTS:
2 large sweet potatoes - about 2 pounds
3/4 cup packed brown sugar - divided
1 stick butter, softened
1 teaspoon salt
2 large eggs
1/2 teaspoon ground cinnamon
1/2 teaspoon ground nutmeg
5 large oranges
1 cup chopped pecans - divided
optional garnish - miniature marshmallows
DIRECTIONS:
Preheat oven to 450. Scrub potatoes and prick with the tines of a fork in several spots. Place potatoes on baking sheet. Bake for 1 hour or until fork-tender. Remove from oven & reduce the oven temperature to 350.
Let potatoes cool slightly and remove peel. Mash with a fork in a large bowl.
To the bowl, add 1/2 cup of the brown sugar, butter, salt, eggs, cinnamon, nutmeg and 3/4 cup of the pecans. Stir until thoroughly combined.
Scrub oranges well. Zest one orange then squeeze the juice from it. Set aside some zest for garnish. Add the remaining zest and 1/4 cup of the juice to the sweet potato mixture & blend well.
Cut remaining oranges in half. Remove pulp, leaving eight empty shells. (Save pulp for another use.) Rinse and dry each shell. Trim as needed so they will sit flat, cut sides up, on the baking sheet.
Fill each orange shell with the potato mixture. In a small bowl, combine the remaining pecans and brown sugar. Sprinkle over each cup. If desired, top with marshmallows.
Bake at 350 for 15-20 minutes. Garnish with reserved zest. Serve hot.