Transparent Pie
From the Kitchen of Willa Dean Bonnell Spiker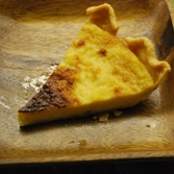 INGREDIENTS:
1 partially baked 8 inch pie shell, cooled
1/4 Cup unsalted butter
1 Cup firmly packed brown sugar
3 eggs, beaten
1/2 Cup light corn syrup
1 tsp vanilla
1 pinch salt
DIRECTIONS:
In a large bowl mix eggs, corn syrup, vanilla and salt. Cream butter with brown sugar in a separate bowl then add to egg mixture. Pour in pie shell. Bake until done, about 40 minutes.