Tuna Noodle Casserole
From the Kitchen of Willa Dean Bonnell Spiker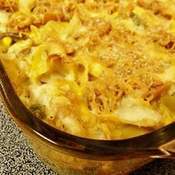 INGREDIENTS:
1/2 package hearty wide egg noodles, cooked
1 can cream of chicken OR cream of mushroom soup, condensed
salt and pepper, to taste
celery seed, to taste
milk (enough to moisten)
grated parmesan cheese, to taste
DIRECTIONS:
Combine all ingredients in casserole dish. Top with additional parmesan cheese. Bake at 350 for approximately 30 minutes.
COMMENTS:
Try combining dried and fresh grated parmesan cheeses.