June 2010
Guy Zinn - History in Baseball
Bobbi Spiker Conley
Death certificate reveals Gay Spiker's first cousin, Guy Zinn, was a professional baseball player for the New York Yankees.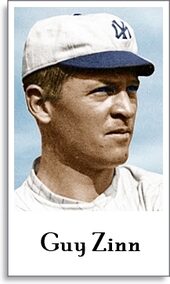 Several years ago while looking for death certificates in my genealogy research, I found one for Gay's first cousin, Guy Zinn. It listed his employment as "professional ball player for the New York Yankees." THAT got my attention. Excited and intrigued by this discovery, I searched the internet for more information and was lucky enough to find Guys baseball card on E-bay.
My research revealed that Guy Zinn, first cousin to our Gay Zinn Spiker, was recruited by New York in 1911 for $1000. He made all the newspapers. They talked about how he was so good, he was the sole reason they won some of the games. In 1912, he was the very first player up at bat in the brand new Fenway Park in Boston.The only reason this first game at Fenway Park didn't make front page news was because the Titanic sank five days before the game. In 1914, in a pre-season practice game, he broke his leg just above the ankle sliding into 3rdbase and was out for the rest of the season. The next season everyone was thinking he was going to take the team to a whole new level but he favored that leg too much. Eventually that injury would end his Major League career, although he moved on to the Minor League.
In his baseball career Guy played for the New York Highlanders (which later became the New York Yankees), the Boston Braves and the Baltimore Terrapins. Guy was only on one card in a set put out by the Baltimore News, the rarest set ever!
So when I couldn't come up with a good idea for the auction, I went looking for another baseball card. I once again went searching on Ebay for a card like mine that I could donate.
Imagine my surprise when I found Guy's 1st, original "rookie" card on Ebay! The selling price for hiscard was a quarter of a million dollars……and no, I didn't get this one. I did print out a copy of the Ebay auction to prove just how much they were asking for it. It also shows a picture of the front and back of the original card. The reason it's so expensive is because there is only ONE of this Guy Zinn card in the world.
But there are other Guy Zinn baseball cards in circulation. The American Jewish Historical Society put out a set of Jewish Major Leaguers in 2003. Guy Zinn was included in this set and that's the card I own. The set was re-issued in 2009 to include newer Jewish players. This 2009 set has the card that I found on Ebay and was able to donate to the family auction, along with copies of a few relative newspaper articles.
Yes, it's not old and no, it's not worth a quarter of a million dollars but it IS a piece of our family history and you'd have to chew a lot of gum to find just the one card you were looking for so I guess I did OK. And to our family, this little bit of history is priceless.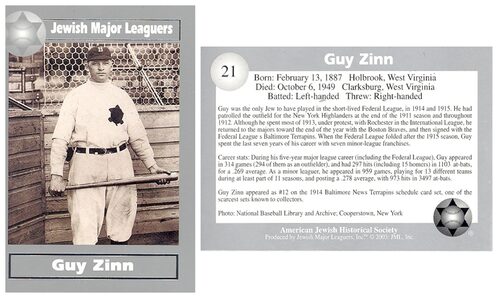 The baseball card pictured above was purchased by Melanie Fouse. It is card #21 in the 2003 Jewish Major Leaguers card set. The set was a limited edition of 15,000 sets. Guy Zinn is pictured in a uniform that includes "B" on the hat and a turtle on his shirt representative of the Baltimore Terrapins uniform. The American Jewish Historical Society made this set to commemorate the 142 Jewish players that played in the Major League. It is the first card set of an American ethnic group. The SILVER EDITION set cost $200. The logo, a Star of David with a baseball inside of it, appears on each card. The only other card that Guy appeared on was in a 1914 Baltimore News Terrapins card set, one of the scarcest sets ever! The current value of Guy's card from that set is $250,000!
Career Notes
*  Born in Hollbrook, West Virginia, in 1887, Zinn began his professional baseball career in 1909 as an outfielder with Grafton of the Pennsylvania-West Virginia League.
*  Played for the New York Highlanders (later known as the New York Yankees) from 1911-1912, the Boston Braves in 1913, and the Baltimore Terrapins from 1914-1915.
*  Holds the unique distinction of being the only Jewish baseball player in the Federal Leagueand the only Jewish player to play in three major leagues:  the American League, the National League, and the defunct Federal League.
*  Debuted with the Yankees on September 11, 1911 at the age of 24.
*  The left-hitting outfielder was the starting right fielder for the Yankees in 1912, batting .262 with 55 RBIs, hitting 15 doubles, 10 triples, drawing 50 walks, swiping 17 bases and tying the then-existing Yankee club record by making 6 home runs, earning him the nickname "The Gunner." 
*  Fenway Park opened in Boston on April 20, 1912.  In the first official Major League game, Guy Zinn was the first batter to step up to the plate and the first to score a run in stadium history. The event did not get much media coverage because the game was played just a few days after the historical sinking of the Titanic.
*  August 15, 1912, sets Yankee record by stealing home twice in a single game. 
*  Posted an .893 FA in 1912, making him the last outfielder in history to field below .900.
*  On May 20, 1914, became the 6th player in Major League history to hit a home run and a triple in the same game.
*  The Terrapins considered Zinn one of the best players on the club but his season was cut short when, on July 12, 1914, his foot caught on the third-base bag and he snapped a bone in his ankle. Left fielder Zinn had come to the plate with a teammate on base.  He drove a hit deep into the outfield that scored the runner.  Instead of settling for a double, Zinn rounded second and charged into third, catching his foot awkwardly on the bag, breaking his left ankle.  The game was called while Zinn was taken to the hospital.  Zinn played one last season for the Terrapins in 1915, batting .269 – the exact total batting average for his 5-year career.  The injury ultimately ended his Major League career at age 28. 
*  Former teammate, Chet (Red) Hoff said of Guy Zinn after the injury:  "I thought he was going to be another Ty Cobb.  He had everything (going for him)."
*  Played for several Minor League teams from 1916 to 1922 before retiring from the game.
  According to the New Castle News*, Guy Zinn was arrested in 1919 for assaulting an Umpire after a game.  The article states that Umpire A. W. Strowger of the M.O. League had called a strike on Guy, to which the batter objected.  Even though Guy scored a hit on the next pitched ball, he was apparently still upset with the "bad call" and in the dressing room after the game, is said to have attacked the Umpire.  Zinn was charged with assault, arrested and later admitted to bail.
*  As of February 2010, Guy Zinn's rookie baseball card is valued at a quarter of a million dollars – more valuable than Babe Ruth's rookie card!
Baseball Stats
*  Guy Zinn's stats by Baseball-Almanac.com
*  Guy Zinn's stats by BaseballReference.com.
*  Guy Zinn's Minors stats by BaseballReference.com
*  1912 New York Highlanders Roster by Baseball-Almanac.com
Baseball Photos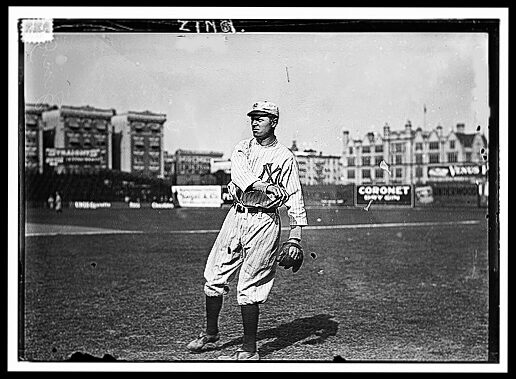 Guy Zinn, New York Highlanders, at Hilltop Park, New York City.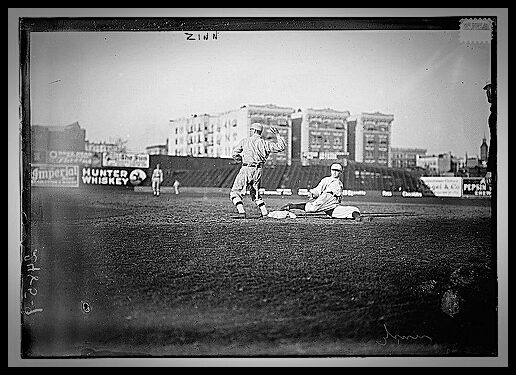 Guy Zinn sliding into first base against Boston at Hilltop Park, New York City.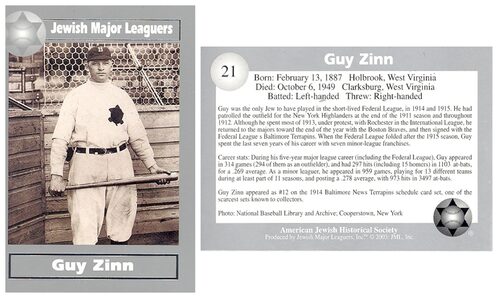 1906 Altoona Rams Minor League Baseball team cabinet photo. Guy Zinn front row, third from left, next to the manager!
In the News
Guys in the news - 99 years ago: ; State native part of Fenway trivia history
The Charleston Gazette (Charleston, WV)\ June 29, 2011 | Mike Whiteford 
Ritchie County native Guy Zinn made his pro baseball debut in Grafton and later played for the New York Highlanders (Yankees).
The Grafton center fielder, Guy Zinn, beat out an infield single ''by the fastest kind of\ running," reported the Grafton Daily Sentinel on May 5, 1909.
It was Grafton's season opener in the Class D West Virginia-Pennsylvania League and, as the newspaper noted, "merchants, barber shops and other business houses closed for the game."
It attracted a crowd that was reportedly the town's largest ever, though the Sentinel didn't\ give a number. The mayor threw out the first pitch, and Grafton defeated Uniontown 3-1 at the town's Traction Park.
Back then, as they do today, baseball's lower, minors offered the tantalizing possibility that an obscure player might move up the professional baseball ladder and achieve some sort of distinction.
And so it was with Guy Zinn, who was born in Holbrook, a tiny community in Ritchie County a few miles from the Doddridge border and not far from Harrisville. The 22-year-old Zinn made his professional baseball debut that day in Grafton.
Three years after his Grafton debut, Zinn played left field and, batted leadoff for the New York Highlanders, the team that would soon call itself the Yankees, and gained a bit of baseball immortality by being the first player to set foot in the batter's box at Boston's new Fenway Park when the place opened on April 20, 1912, five days after the sinking of the Titanic.
The game drew an overflow crowd of 27,000, the largest ever for a Boston baseball game, and many of the fans stood behind ropes in the outfield.
After drawing a walk to lead off the game, Zinn scored the first run in Fenway history as part of a three-run Highlander uprising, though the Red Sox rallied for a 7-6 victory. Chasing a fly ball in the second inning, he slipped and fell in the rain-soaked outfield, allowing a run to score, The New York Times ' reported.
Nine days earlier, playing in the Highlanders' home opener at Hilltop Park in Upper Manhattan, Zinn and his teammates took part in another distinction - they debuted pinstripe uniforms, thereby introducing a design that would become a Yankee tradition.
As the Grafton Daily Sentinel noted, Zinn was a speedster and was fleet enough for frequent use in center field in a five-year major league career that included two seasons with Baltimore of the outlaw Federal League. He was also an accomplished base-runner. On Aug. 15, 1912, playing against the Tigers in Detroit, he stole home twice, a record he still shares with 10 other players.
He sometimes batted cleanup or No. 3 in the order and led the 1912 Highlanders in home runs, hitting six of the, team's 18 in a dead-ball era that emphasized small-ball techniques.\ He made his major-league debut late in the 1911 season and enjoyed his best year in 1912, hitting .262 with 55 RBIs in 106 games. After his big-league career, he played six more professional seasons and retired in 1921 at age 34.
After baseball, he apparently spent the rest of his life in Poughkeepsie, N.Y, said\ his grandson, Bill Talkington of the Seattle suburb of Graham, Wash.
"I saw him when 1 was 9 or 10 in Poughkeepsie," said Talkington, who grew up in Clarksburg and served in the Korean War, ''but I don't know what kind of work he did there."
At age 22 when he lived in Clarksburg, Zinn married Marion County native Ethel\ Carter, who worked for Harrison County and later was a cook at Broaddus College (now Alderson-Broaddus) in Philippi.
Zinn died in West Virginia in 1949 at age 62 and is buried in the Greenlawn\ Masonic Cemetery in Clarksburg.
Zinn, incidentally, was not the only West Virginian in the Highlanders' starting lineup when Fenway opened that day in 1912. On the mound was Jack Warhop, a Hinton native and a five-year veteran with a submarine style.
As it turns out, Warhop achieved greater trivia fame than Zinn. Pitching against the Red Sox in 1915, he gave up a home run to a high-profile rookie, Babe Ruth. It was the Babe's first ever.
Miscellaneous
*  "$250,000 gets you a baseball card of Guy Zinn (who?)"
Some of the text from this linked page reads:  Why is the price so high for a slab of cardboard of a player you've never heard of? Just one known copy exists, and Zinn is in high demand by a series of collectors who specialize in baseball card subsets.
Zinn's biggest claim to fame as a major-leaguer came on April 20, 1912. As lead-off hitter for the New York Highlanders (who later became the Yankees), Zinn drew a walk and later scored as the first major-league batter in the history of Fenway Park in Boston.
There is one other significant card in the Baltimore American set…that would be Babe Ruth's rookie card…but it's a heck of a lot cheaper than a Guy Zinn card.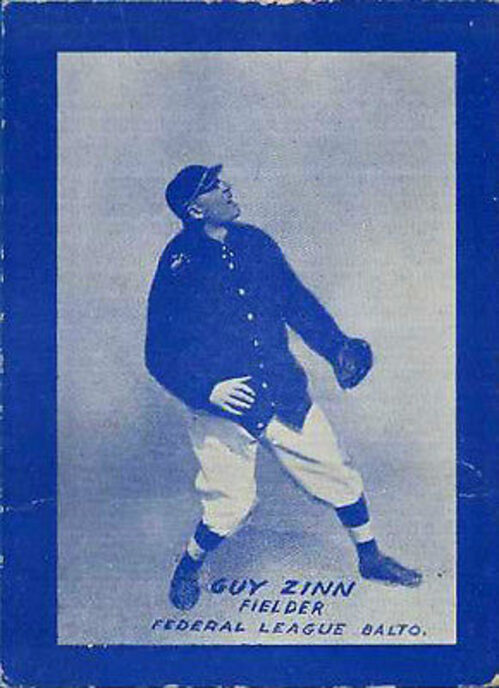 *  "Guy Zinn listed as First Batter in Fenway Park History on USA Today."