May 2015
That's Jeana, Mark's Baby Girl
Jeana Spiker
Jeana fondly remembers her grandmother Alice Spiker.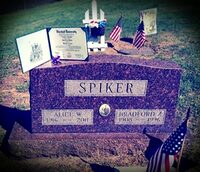 My grandmother, Alice Lucinda Spiker, always cared about education. She taught me how to read while I laid across her lap in the recliner and no matter how big I got, that's how we sat together.
She would always make me sunny-side-up eggs with toast and bacon for breakfast when I stayed with her. And made me milkshaes with Breyer's vanilla bean ice cream for dessert. She had her stash of Hershey bars in the bottom drawer in the dining room and always let me have one when I visited, even though she knew I would sneak a second one when she wasn't looking.
I remember the little light that hung on the ceiling by the stairwell when you walked in the front door. I remember jumping from the dresser to the bed like animals with my cousin Kari and breaking the bed, and even though we broke it, she wasn't upset.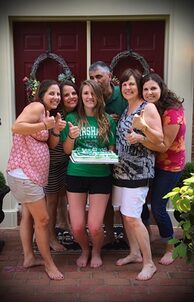 I remember staying with her one night and there was a bat in the room and she chased it through the house with a broom trying to get it out the front door. I remember the last Christmas we had at her house before she had to go to assisted living and I remember the last Christmas she was with us; it will never be the same without her.
I remember the last year she was with us at our family reunion and the last four years without her there it's always seemed like something was missing. (I was so proud to wear her opal right today at the reunion.)
I distinctly remember the last time I saw her, lying in a hospital bed; she seemed so upset and at that point she didn't remember much but when the nurse looked at her and asked if she knew who I was, she looked at me with the most loving eyes and said, "That's Jeana, Mark's baby girl."
Her love for education is the reason I wanted to make it through college. Her love and the memories of her kept me going for the longest time. And today, even though I knew she was looking down on me during my gradation, I got to show her that I did it. I got to show her that I could make it through college. I got to show her that her last grandbaby made it.
I love and miss you so much Grandma and I know you are proud.