January 2012
The Twenty -- A Reminiscence
Gary W. Zinn
Author's note: This is a story about my father, O.Earl Zinn (first cousin of GayLink Zinn Spiker,) an old shotgun, and me. I hope that my Spiker cousins enjoy it.
There is a well-worn old shotgun in my gun locker. It is a 20-gauge Winchester Model 12 with a modified choke 26-inch barrel. I haven't shot it for several years now, but I will keep and treasure it as long as I live, for two reasons. First, it holds memories for me of many days I spent hunting with it. Second – and most importantly – it was my father's prized possession, which he indirectly bequeathed to me.
I have checked the Winchester manufacturing records and determined that this gun was built in 1923. I'm sure that's the year Dad bought it, because he once told me that he special-ordered it through a store in our locality. It was the first firearm he ever owned.
I came to understand how much he treasured it because he would tell me stories of his adventures when he had hunted with it (which was, unfortunately, for all too brief a time). Also, Dad always insisted that after I had used The Twenty (as we always called it) I clean it thoroughly, whether I had shot it or not. This was special treatment, for during most of my youth the only other working gun in our home was a twenty-two rifle that only got a few swabs run through the barrel a couple times a year.
My parents married in 1924. During the next eight years they added a daughter and three sons to their family and then I arrived twelve years later. Meanwhile, a tragedy occurred – my father's eyesight began to fail in the year 1930.
Dad and one of his brothers had served in the army during World War I. They fought in France, where Dad once encountered mustard gas. He was not seriously poisoned – or so it seemed at the time – and returned home to a normal life after the war. But the later deterioration of his eyesight was eventually attributed to the gas poisoning he had suffered. Dad's sight finally stabilized at a point where he could, wearing thick glasses, read large newspaper headlines. But his hunting days were done.
During the years that followed a unique relationship developed between my father and his sons. I came to understand this gradually. For instance, I would take The Twenty hunting and come home with some squirrels. Dad would always help me clean them and while we were doing this chore he would ask me about my outing: "Where did you go? What did you see – any grouse, any deer? How did you get a shot at this squirrel? Did you see any sign of that fox we heard howling down the ridge the other evening?"
I finally realized that Dad was still enjoying the pastime of hunting, but now vicariously through me. I checked with my older brothers and they confirmed that it had been the same when they were growing up. We were his tenuous link to something he had enjoyed immensely but could do no longer.
Dad died of a heart attack in 1970. My mother survived him by a quarter century and during her waning years she began distributing special family possessions among her children and grandchildren. When she asked me if there was anything that I would especially like to have, I answered immediately: "Mom, the only thing I want is The Twenty." And so I have it. Thank you for understanding, Mom.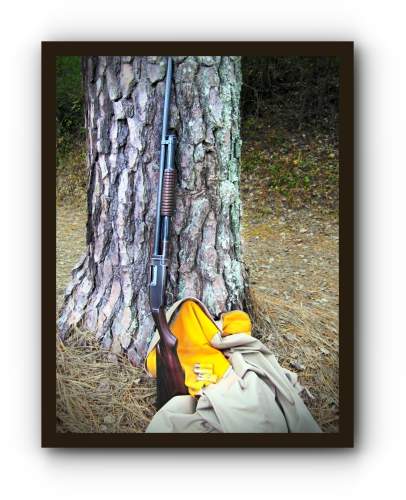 The last time I took The Twenty afield was a special day, because it was truly a trip down memory lane. My eldest nephew now owns and lives on the small West Virginia farm where I grew up. I was visiting there one autumn weekend and decided to spend an afternoon hunting. I took The Twenty and hiked up to the ridge that crosses the back of the farm and then meanders some two miles southward across neighboring properties. This was my favorite hunting area when I was growing up and as I walked through the woods many memories of other days spent there came to mind. I saw several squirrels, flushed a couple of grouse, watched a hawk that was hunting much harder than I, and kept bumping into a doe with two half-grown fawns. I didn't shoot at any of the small game – I was enjoying the outing too much to disturb things with a lot of noise. The highlight of the day was when I slipped up on a flock of wild turkeys. I simply stood still and watched them feed along ahead of me until they wandered out of sight over the ridge. It's not often that one can watch undisturbed turkeys going about their business.
As evening fell and I was making my way out of the woods I began thinking about how I would have described all of this to Dad. If he had been waiting back at the house he would certainly have expected a full and detailed report. He would have liked to hear about the turkeys especially, because they were nonexistent in our neighborhood during most of his lifetime so he never had the experience of seeing them in the wild.
"There were over a dozen of them, Dad. They were right in front of me and as I watched they . . . "