September 2007
A Family Birthday Celebration for Paul Miller's 90th
Week-long celebration in the beautiful Rocky Mountains to celebrate Paul Miller's 90th birthday.
A Family Birthday Celebration for Paul Miller's 90th
Written by: Paula Miller Nolan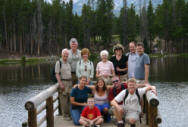 This happy and fun event was held in the beautiful Rocky Mountains near Estes Park, Colorado from August 11-16, 2007. This location was chosen because of the love that Granddad has for the mountains and hiking. He has passed this passion on to several of the family members. Our lodging was at the YMCA of the Rockies, which is adjacent to Rocky Mountain National Park. This facility is nestled in the heart of the Colorado Rockies at an elevation of 8,010 feet with breathtaking views everywhere.
This needed to be planned 18 months in advance, as reservations are very hard to get. Our group was in three cabins located at the highest point at the YMCA. The cabins were rustic so we often felt like we were camping which will add to the family tales.
Reunion of a Truly Blended Family
All three grandsons were present with their families. Ryan and Barbara drove from western Colorado with Camden, Cole and Payton. Cole celebrated his 14th birthday while we were together. Chris, Jenny and "little Ryan" also made the trip by car from Phoenix. Evan and Jen flew from San Jose, CA, and Jen was able to enjoy many of the activities in spite of being six months pregnant with their first baby. The four of us from Missouri also arrived by car. We invited Ryan and Evan's father, Blair Thrush and his wife, Sandy to join us. They stayed at a nearby hotel but did most of the activities with us, and we enjoyed having them as part of our group.
Activities Galore
Of course, we had to do some hiking in the National Park. On one hike, we climbed to 11,000 feet to Emerald Lake. On the way to the top, we also passed Nymph and Dream Lakes, which made for a beautiful hike. All four generations enjoyed the hike, and all made it to the top to enjoy the spectacular view.
Some of us took a horseback ride into the Moraine area of the Rocky Mountain National Park. None of us fell off, and we survived the inevitable soreness that came afterwards. Even Camden had a chance to ride a pony at the stable, and he fell in love with that pony named Star.
We had a traditional campfire with s'mores, music and singing. It felt good as the nights in the mountains become cool very quickly.
The YMCA is a terrific place for families with many types of activities for children such as mini golf, basketball, crafts and swimming. There are no TVs or video games so it is like the Spiker farm where children are active and spend their time outside.
Future Plans
This event was such a success that we plan on convening next summer very near Grand Teton National Park for some more mountain fun. We will also have another 90th birthday to celebrate, as Francena will reach this milestone in early 2009.
Kids Say (and Do) the Darndest Things
As Told by: Melanie Spiker Fouse
Melanie Fouse's grandkids were all visiting her house one day when she witnessed one of those touching sibling love stories…
Adreanna has eight new teeth. She's discovering it feels good to chew on her own fingers. It feels good to bite down on food, on toys, on anything she can "sink her teeth into".
Alas, she's also discovering it's fun to bite down on OTHER people's fingers, too.
Cousin Tayler disagrees. Adreanna's bite is NOT fun. It hurts. A lot.
Normally full of smiles for her tiny cousin, one bite was all it took. Poor Adreanna had no idea why Cousin Tayler was yelling at her or why she ran from the room looking for comfort elsewhere.
Having witnessed the commotion (and apparent confusion) Rheanna came to her baby sister's rescue. In an attempt to make Adreanna feel better, she said, "Here, Nana. You can bite MY finger" and proceeded to stick her finger in Adreanna's mouth.
So….Adreanna bit her!
A startled cry of pain was followed by tears and whailing as Rheanna ran for comfort elsewhere.
With a puzzled look on her face, Baby Adreanna looked at the sobbing girls as if to say, "Wha'd I do?"
New York! New York!
Written by: Cathy Spiker Gregis
Larry and I took another couple with us for a fun-filled trip to New York. Our itinerary was so jam-packed, it seems like there was never a spare minute between adventures. We left on Friday, August 3 and boarded a bus to Morgantown at 6:45 AM. The bus pulled out at 7:15 AM and arrived at our hotel at 4:00 PM where we immediately boarded another bus and headed for dinner at Bubba Gump Shrimp Company, a restaurant made famous by the Forest Gump movie. The food was good but the atmosphere was a bit too noisy.
At 7:30 PM, we boarded yet another bus for a ride to the Empire State Building for a tour and, of course, a lot of picture-taking. It was dark and the city looked beautiful with all the lights. It was getting ready to storm and the lighting from that vantage point was truly something to see. It was as if we were in the clouds right in the middle of the storm!
The next day we went on a four-hour guided tour of New York City. We went to Queens where we watched a man fishing in a sewer grate with a string, a magnet and some glue. He "caught" some change. We then went by Central Park, saw Trump Tower, China Town, NBC Studios, Rockefeller Center, Times Square, Harlem, Macy's, Madison Square Garden, Greenwich Village, Ground Zero, Brooklyn and the Brookyn Bridge, the Hudson River and passed by apartments of some famous people like Harrison Ford. Whew! And these are just SOME of the places we visited.
I noticed signs like "No Standing," "No Sitting," outside a two-story McDonalds. Some signs said "No Honking," or "No Standing, No Sitting, No Kidding".
After lunch we went to Radio City Music Hall and had our picture taken with a Rockette. We eventually had some time for ourselves to do what we wanted without the structure of guided tours. Of course we got lost. Someone had told us that Streets went one way and Avenues went the other way. A lot of good that did us! Later I approached one of those "bicycle guys" that had a place for two people to sit. I said "Broadway, The Color Purple, please." Then we acted like nothing happened at all. We even arrived early. At 8:00 PM, we watched the Broadway play, The Color Purple, starring Fantasia from American Idol. Wow! I can't say enough about it. The singing, the choreography, the way they changed background sceneries, how the people aged, the jungle scene…well…it made my chest and heart tremble. It wasn't anything like the movie. I just don't know how to explain it – maybe the way Julia Roberts in Pretty Woman said it best, "I nearly peed myself."
The last day we went to see the Statue of Liberty. I've always heard about it but until I saw her with my own eyes, I never realized her importance. We were then off to Ellis Island, back to Battery Park and then home. It was a great trip…as long as someone else is driving.
We recently traded in our camper on a new 33' R.V. for our next trip…to the Grand Canyon.
A Bolt from the Sky
Written by: Bobbi Spiker Conley
Surge protectors are a necessity in Central Florida - the lightning capital of the U.S. (More lighting strikes are recorded here than anywhere else in the country.) We realized their value a week ago when lightning struck a tree in our yard, bounced into our shed, came through the wires in our lawn that led it directly into our home. In addition to the large gash in the Florida Oak, there are several black scorch marks on the shed and on one of the outlet covers in the house.
Surge protectors are great. They significantly cut our losses (one of the surge protectors even melted from the heat but the electronic sprinkler system plugged into it was unharmed.) But they don't offer 100% protection. At least they didn't for our well. Living in a rural area, we rely on a well and a complex treatment system for our water. Closest to where the lightning struck, it took the biggest hit. It took a specialized crane to pull the pump and 350' of pipe from the ground, three men laboring, a husband "supervising" and a check for $2000 to return to the civilized world of showers and clean clothes. But that was just the beginning.
In case you didn't know, Gary loves his "tunes". (Just ask our neighbors!!!) Outside, there are speakers on the pool deck, speakers on our enclosed front porch (visualize an outdoor "living room") and speakers at his work shed. Inside, there are speakers in just about every room. All of the exterior units are connected to a sound system in our Game Room. It appears that when the lightning struck the shed, the current traveled through the speakers, through the speaker wires (burning one in two), into the house and through Gary's precious sound system, frying the circuits in almost all of our components. The control buttons feel like "mush" when you press them and the internal circuitry was melted into a solid mass. White, electrical smoke rose from the burners on our stove. My computer monitor (attached to a very expensive UPS/Surge protector) "went crazy" for a while but thankfully recovered without any noticeable problems. The hair on my arms stood on end as I swore the lightning struck the floor beside me (it didn't; it just felt that way).
The electrical equipment at the shed (where the water system is located) received the most trauma. Luckily, the extra fridge in this building (we love to cook and entertain – can't have enough refrigerator space, you know), and Gary's air compressor were connected to surge protectors and were unharmed. The items without protection didn't fare as well. The motion detectors don't detect. The lights don't light. The timers don't time. Some of the landscape lights were blown from their housings. Even a potted plant was blown two feet away.
We had planned to spend our "long holiday weekend" enjoying the Labor Day events of our community. Instead, our time is being spent re-wiring, calling for estimates, shopping for new appliances and sound system components. YUCK! No, we will not file a claim for the damage with our insurance company. As you will recall, the hurricanes since 2004 have frightened the insurance industry. Many companies are pulling out of the state altogether. Although we never made a claim, our insurance company refused to renew us last year. Shopping for a new carrier was exhausting. Our premiums quadrupled, our deductibles doubled and our coverage was significantly decreased. Heck no, I'm not making a claim. I'll save that in case of a catastrophic loss. (Of course, if you ask Gary, it IS catastrophic to have to go without his "tunes" for a few days.)