October 2019
Announcements - Boy Scouts
Derek Gifford reacts quickly to safeguard those in his care.
Announcements
Submitted by Jean Spiker – This tree fell at the Cub Scout day camp at the VA Park in Clarksburg [on June 13, 2019.]  My grandson, Derek, was part of the Junior Staff on the BB-gun activity. This large sycamore tree fell on the canopy tent that the Cub Scouts were in. They heard the tree starting to fall. Two retired police officers that were volunteering told the boys to run. 

Derek had 11 Cub Scouts under him that he was in charge of. Six went with Derek and then the tree fell on the tent. Derek yelled, "I need a headcount right now," and went back to the tent going through the branches of the tree to get to the tent. 

"I was frantically looking for the other five boys," Derek said. "They had ran to the other side and were safe."

One boy went to the hospital to be checked out because the tree branches came down on him, and another boy had scratches as well as bruises.

The leaders of the camp, other volunteers, and people of the Boy Scout Council were calling Derek a hero for taking charge and looking out for the other kids. I'm so proud of him.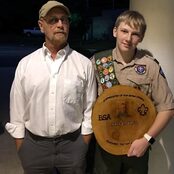 ---
Update: At the Bridgeport City Council meeting in September, Mayor Andy Long said, "The canopy and everything under it was totally destroyed, and had it not been for the courageous acts of four boy scouts and two range masters, 11 lives would've possibly been lost that day."
According to an article in Connect Bridgeport, "Peggy Sue Miller of the Mountaineer Area Scout Council narrated while showing photos of the collapsed canopy. She said amidst terror and confusion, the scouts and staff members displayed the same calm confidence, bravery and quick action that had been instilled in them through their years of scouting; getting those located under the canopy outside to safety, treating injuries and calming an adult who had witnessed the incident."
Ms. Miller is quoted as saying, "This incident and these heroic actions of these volunteers never made the news. We've seen similar circumstances at camps across the country and we recognize that the actions and dedication of these individuals before us are the specific reasons we are celebrating rather than mourning. Their actions saved numerous lives that day and we are eternally grateful and the community thanks you for your service."
Each of the heroes was honored with a plaque that was crafted by David Hosaflook from slices of the sycamore tree.
"Now, therefore, I, Andy Lang, Mayor of the City of Bridgeport, on behalf of the governing body and all the citizens of Bridgeport, by this proclamation, do hereby recognize boy scouts J.D. Ritchie III, John R. 'Jack' Dotson III, Casey Bone, and Derek Gifford, along with Range Masters Joe Ritchie II and Chuck Gearhart for their courageous acts and extend our gratitude for their quick actions on June 13, 2019 making the City of Bridgeport very proud."