October 2010
Breaking Through the Brick Wall
Requests for sources about David Spiker & his father that will help us positively identify the family connection.
Barry Spiker, a member of the Gazette mailing list, recently contacted our group asking if anyone could provide information about his branch of the Spiker family tree.  His list of ancestors included a familiar name – Ulrich Speicher (Spiker).  We've received many letters similar to Barry's citing the same link to Ulrich.  Although we are willing (and wanting) to believe that the connection exists, to date we've been unable to PROVE it because our research hit a "brick wall" at David Spiker, the grandfather of our beloved Jacob.  It is our hope that those reading this article may be able to assist us in finally "breaking through that wall".
What we can confirm is that Jacob is the son of Isaac Monroe, who is the son of David.  What we cannot confirm is the name of David's father.  As a result, our tree currently looks something like this:  
? Unknown?
David Spiker (pictured)
Isaac Monroe Spiker
Jacob Spiker (our grandfather)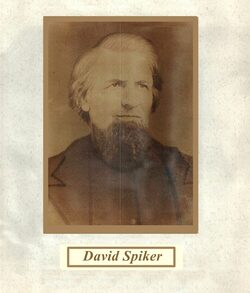 However, researchers from other genealogy sites have added three more generations to our tree.  As a result, their trees look something like this:
Ulrich Speicher / Spiker
Jacob Spiker
John Spiker
David Spiker (pictured)
Isaac Monroe Spiker
Jacob Spiker (our grandfather)
According to our family genealogist, Melanie Spiker Fouse, "I can't just COPY this family tree and say, 'Yes, John is David's father,' without some form of proof.  I need to find the sources."
A source is like an audit trail.  It's a means of verifying or proving data.  In genealogy research, any statement of fact must carry its own individual source. 
"There are different levels of sources, referring to how reliable a source is," Melanie said.  "A Primary source is written on or very near the date an event occurred, whereas a Secondary source is written a significant time after an event, or it may be just a verbal memory from a friend or relative."
While both types of sources are important in genealogy research, primary evidence is usually considered more reliable than secondary evidence.      
"But this is only a guide," Melanie said.  "We have to take into account the likelihood of human error in a time when one-third of the population couldn't read and another third couldn't write.  The world relied on the hand-written word of outsiders to copy, and keep a record of everything.       
"Even the US Federal Census – from which we get a lot of information about the family such as their occupations and personal wealth and even whether they owned a radio set – was written by hired census takers.  Names are often misspelled or merely abbreviated.  Before 1850, the census takers were only required to get the name of the heads-of-household and then break down the number of children by gender and age.  As such, we can't find David's name on the census.  He is merely a number on a page." 
Melanie said she's been unable to find any primary sources that would positively identify David's father.  "David was born in 1823 in Allegany County, Maryland, long before birth certificates became a requirement there in 1865. His marriage to Catherine Downs was recorded in a family bible.  The Courthouse in Monroe County, Ohio, where he lived for a time, burned down in 1867.  He died in 1877 at the age of 54 and was buried in the EUB cemetery in Pennsboro, West Virginia but no death certificate has been found."
Which brings us back to the other Spiker genealogy sites that propose a relationship to our David Spiker.  Do these researchers know something we don't know?  The only common thread we can find listed in their sources is a rare and out-of-print book titled A History of the Speicher, Spicher, Spyker Family, 1737-1983.  The problem?  No one confirms that the book contains any documented, reliable sources. 
Undeniably, this book could be the tool that would help us finally knock down our brick wall.  That is, IF it does have a good "audit trail" that we can follow.  The remaining hurdle is securing a copy of the book to review. 
Melanie wrote, "I have never seen this book.  I do know of a used copy sold at Amazon.com for $95 but it is very rare to find one.  If anyone has a copy, or wants to buy me this one for a Christmas present (insert chuckle and wink here) please contact me about a look-up on the sources they used to link David to John.  I would be eternally grateful to have this particular 'wall' knocked down and I could then look around Bern, Switzerland to 'see' where our ancestors might have lived."
Since we're still looking for answers ourselves, we don't yet have much information to share with Barry Spiker.  "However," Melanie Fouse said, "if  the family link declared in the book proves to be true, Barry Spiker would be related to us through brothers John and Adam.  They are the sons of Jacob and the grandsons of Ulrich."
Welcome to the family!