April 2018
Catherine Zinn's Diary Reveals Sad History
Two die and two are injured in Oxford, WV fire
By Bobbi Spiker-Conley
---
In the summer of 1934, a fire broke out at the home and business of Eli Marshal Nutter in Oxford, WV. His daughter and stepdaughter were killed in the fire. Marshal and another daughter were critically injured. The combination general store/post office and three dwellings were destroyed. The first I'd ever heard of this story was from Catherine (Moats) Zinn's diary. At that time, she was a widow living with her son and daughter-in-law, Reed and Rhoda (Nutter) Zinn.  I've transcribed her entries below (strongly edited for clarity.)
Notes about the Nutter Family

Eli Marshal Nutter married Alpha Mary Leggett in 1911 with whom he had four children - Gwendolyn, Susie, Virginia and Alpha Marie. His wife died in 1919. 

Laura Ethel Squires married Harry Burton Nutter in 1914 with whom she had two children, Oletta and William Porter. The couple divorced.

Then in 1923, Eli Marshal and Laura Ethel married and had three more children –  Marshleen, Junior and Joseph.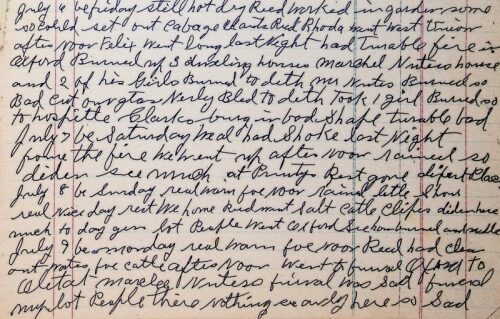 July 6, 1934 – Be Friday. Still hot and dry. Reed worked in the garden some so he could set out cabbage plants. Reed and Rhoda went to West Union in the afternoon. Felix [Zinn - Reed's half-brother] went along.

Last night we had a terrible fire in Oxford. It burned up three dwelling houses – Marshal Nutter's  house – and two of his girls burned to death. Mr. Nutter burned so bad and cut on glass. He nearly bled to death. They took one girl, burned so, to Clarksburg hospital in bad shape. Terrible bad.

July 7, 1934 – Be Saturday. We all had shock last night from the fire. We went up in the afternoon. It rained so hard, we didn't see much at Prunty's [most likely referring to Lee & Emma (Nutter) Prunty's residence.] The rest were gone to different places.

July 8, 1934 – Be Sunday. Real warm before noon. It rained a little. The rest of the day sure was real nice. We stayed home. Reed went to salt the cattle. Clipes [the family dog] wasn't here much today. Guess a lot of people went to Oxford to see the burned home and the Nutters.

July 9, 1934 – Be Monday. Real warm before noon. After noon, Reed had to clean out the water for the cattle. We went to the funeral in Oxford - to Oletta and Marshleen's funerals. Was a sad funeral. My, there were a lot of people there. Nothing so awful has ever happened here. So sad.
I am surprised I'd never heard this story, and even more surprised that none in my immediately family had ever heard it either. Why surprised? Because Eli Marshal Nutter was a younger brother to Aunt Jean's mother-in-law (Susie Nutter-Haught-Wilson) and Sue Ann's grandmother (Nellie Mae Nutter-Stinespring.) Was this an event so horrific that family didn't want to discuss the graphic details? Well, the newspapers of that time had no such reservations. The headlines screamed, "Two Girls Burn to Death as Town is Razed" and "Father, Daughter Fighting for Lives." The articles, when pieced together and combined with other research, reveal a story something like this:
In 1934, Eli Marshal Nutter, 50, his wife, Laura, 41, and six of their children (see "Notes about the Nutter Family" above) were living in a two-story home in Oxford, WV. Next door, Marshal operated a combined general store/post office, of which he was the proprietor and postmaster. Two single-story dwellings - also owned by Mr. Nutter - were situated nearby.
On Friday evening of July 6, the entire family retired early to their rooms – the parents and the boys on the lower level, the girls on the upper level. As they slept, a fire silently ignited somewhere on the second floor.
Flames lapped at the door of Susie and Virginia's room. Susie, 20, opened it in an attempt to escape. The flash struck her in the face and set fire to her night clothing. Finding that she was trapped, she ran to a window and stepped out to a porch roof from which she leaped to the ground, ten feet below.
Virginia, 18, quickly realizing that she was also trapped, ran to another window and leaped to the limb of a tree. She descended safely to the ground with only slight injuries.
Flames had already cut off all exits from 19-year-old Oletta and 9-year-old Marshleen's room before Marshal Nutter was even aware of the fire. Jolted awake by the muffled echoes of his daughters' frantic cries, he rushed Laura and the boys, 7-year-old Junior and 3-year-old Joseph, through the house and safely out to the lawn.
Struggling to see through the ash stinging his eyes, Marshal made multiple attempts to reach the second floor. Each time, the increasingly distraught father was forcefully driven back by the noxious smoke and intense heat. The fire was too quick. Too ferocious. The sisters were hopelessly trapped in the room where they perished.
Because the little town had no fire apparatus or water supply, no attempt was made to fight the blaze. Residents could only watch helplessly as burning boards folded on top of each other and, piece by piece, the home crumbled to the ground. Freshly stirred embers swept from the home to the other nearby structures, engulfing everything in a blazing, explosive inferno. The fire left only ashes and sadness in its wake.
Eli Marshal Nutter - burned and bloodied - was taken to the home of his brother-in-law, Doddridge County Deputy Sheriff, Victor Goff Stinespring. Miss Susie Nutter - burned and with severe injuries from her leap to the ground - was taken to St. Mary's Hospital in Clarksburg. Both were said to have been in critical condition.
The loss of property was estimated between $10,000 and $20,000. It was not known at that time if insurance was carried.
The ashes of the victims were recovered early Saturday, July 7. Funeral services for the two girls were held Monday afternoon, July 9, near Oxford. The reporters noted that the grief-stricken parents and family had the sympathy of a large circle of friends and relatives in this great and unusual loss, stressing that hundreds attended the services.
---
Announcements
Submitted by Melanie Fouse and Bobbi Spiker Conley  – If you are a grandchild or great-grandchild of Jacob & Gay Spiker, we need you to complete this form today! 

Melanie said, "My focus at the reunion this year is getting completed Family Group Sheets from every family member with their own descendants. By my count, that would mean 37 sheets."

Unfortunately, Melanie has learned she cannot attend the reunion this year, but there's no reason we cannot help reach her goal. So we are asking that EACH head of household complete a form as soon as possible and return it to me (Bobbi) right away. 

Sure. A lot of us are procrastinators (we've been asked for this info multiple times,) but if you haven't filled out one for your family before the reunion, it has been suggested that someone will withhold the chicken until your duty is done - tee hee. So fill it out now. Today. THEN, if you still haven't emailed it, you can bring it to the reunion and perhaps someone else can get it to me. (Click here and select PRINT.)

(For help in completing the form, please visit our newsletter from Oct. 2016.)

Submitted by **Gwen Struzik Smith – I'm very proud to announce that our son, RC, is graduating from WVU which will take place on May 13th! West Virginia has been good to him and many friendships made and a true understanding of what it means to be a Mountaineer!

Submitted by Shelly Currey – The youngest of our six children graduates from Doddridge County High School May 20. Mikayla has been involved in basketball, track, cross country, National Honor Society President, FFA Vice President and Secretary, Raze Club, Leo Club, 4-H, class Vice President, and student council. Although she hasn't committed to where she's going (she has received acceptance letters from ten colleges in the state,) she's leaning toward attending Fairmont with plans to study pre-physical therapy or physical education.

Submitted by Bobbi Spiker Conley – Reminder that the Annual Spiker Family Reunion is Sunday, May 27. Activities are being held all weekend. Bring your RVs, your ATVs, and your FPs (fishing poles.) Bring a side dish, cold drinks, and lawn chairs. Bring swimsuits, towels, bug spray, and sunscreen. If possible, bring an item for our give-away Raffle (something small like a hat or t-shirt with your company's logo) and/or an item for our Auction (proceeds pay for the meal, website hosting and upkeep at the South Fork Baptist Church Cemetery.)

Submitted by Susan J. Scott – The Ritchie County Genealogy & History Fair will be held at "The GYM" in Harrisville, WV on Saturday, April 28, from 9 AM to 2 PM. Vendors include the following Historical Societies:  Calhoun, Doddridge, Gilmer, Ritchie, Roane & Wood counties. Available: genealogy and history books, maps, etc. Genealogy services provided on site. Concession stand. Also represented: Hackers Creek Pioneer Descendants and Genealogy by the Wolfe Family. FREE Admission!!! For additional information: email info@ritchiehistoricalsociety.com or call David Scott at 304-643-2738 / toll free at 866-363-8416.