July 2007
Family Records Tombstone Etchings
Dean Spiker, Cathy Gregis & Melanie Fouse went "grave hunting" to record the location of family graves.
HERE'S WHAT'S IN THE NEWS TODAY
By Bobbi Spiker Conley
I loved listening to my father's stories about his childhood. Some tales were amusing. Some were unbelievable. But all of them were entertaining to me. Things were so different "way back then". Likewise, my daughter enjoyed hearing my own stories about the way things were "way back when" I was a little girl.
Now we want to hear about YOUR personal history. Here's a fun and easy way we can explore how our opinions, our lifestyles and even our world have changed through the generations.
For example, what was your source of transportation to school? My daughter rode an air conditioned bus for ten miles. My own bus ride to school took over an hour. One-way. There weren't always enough seats available, so some of us had to stand in the aisle. And we couldn't even imagine the luxury of air conditioning. My father never had a seat at all. He WALKED to school. Several miles. In three feet of snow. Uphill – both ways! You get the idea.
Just for Fun, let's take a sneak peek into the lives of our extended family. Visit our FORUM and click on the topic titled "History Questionnaire".
FAMILY RECORDS TOMBSTONE ETCHINGS
Submitted by Melanie Spiker Fouse
Dean Spiker, Cathy Gregis and Melanie Fouse went "grave hunting" last weekend. The group went to 16 different cemeteries in two days recording the locations of family graves and taking rubbings and digital photographs of the tombstones.
Melanie said, "(We) captured pictures and tombstone transcriptions of 126 headstones, some with 'double occupancy' on them, belonging to Spikers and Zinns and their extended families. These will be copied into my cemetery software over the next few months and added to the (family tree) website soon after that.
"We spoke to all them and asked if they knew us.
"We even took a tombstone rubbing of John Zinn's headstone; he was born in 1778 and died in 1848.
At the family cemetery for Vada and Manley Zinn, we met the wife of Manley Zinn (grandson of Manley and Vada).
"Here is a picture of the tombstone rubbing Cathy and I did of John Zinn. We first did the old tombstone as it won't last.
"We also did the back of the new stone that Uncle Brad and others had erected in front of the old stone.
"The tree depicted in the picture has an 'F' at the bottom for Family. Then a 'B' on one side of the tree for the boys, and a 'G' on the other side for the girls. Notice one branch on the boys side divides into two for the twins. The transcription reads 'MEMORAL of JOHN ZINN CENIOR. BORND IN THE YEAR 1778. DIED IN THE YEAR 1848 age 70 y. (Words misspelled are exact to stone)John and Ruth (Gandy) Zinn.'"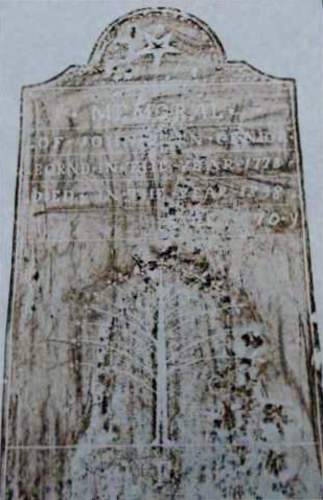 Announcements
Chris Chambers and his wife, Renee, had a baby girl on June 13th, 2007. Grandmother Melinda Chambers told us, "Her name is Ella Brooke, and she's quite a cutie. The next week Renee went in the hospital with a serious kidney infection--her temperature went to over 104, but she's back home and recouping."
Keri Gregis and family recently moved into their new home in Oxford, WV. As if they weren't busy enough unpacking all those boxes, they found time to celebrate with family and friends by hosting TWO parties, a housewarming on June 30 and a Fourth of July party.

Haley Conley's writings have been published in the Mangrove Review, the student-edited literary and arts magazine for Florida Gulf Coast University which showcases the work of FGCU students, faculty, staff, administrators, alumni and members of the community. Encouraged by her professors, Haley submitted three pieces of fiction prose. After reviewing all submissions, the magazine editors selected only SEVEN works of art to appear in theMangrove Review. ALL of Haley's stories were selected for publication!!! (Yes, of the seven selected, three of them were Haley's.)

Recently published, the inside cover of the magazine offered another pleasant surprise which read, "Faculty judges for theMangrove Review Awards determine the most accomplished works produced by current FGCU students that appear inMangrove Review. The Mangrove Review Award goes to Haley Conley for her fiction."

Congratulations Haley! We are so proud of you.