September 2012
Fun Facts about the Spiker Family / Reunion Contest Results
Haley Conley shares some fun and interesting facts that she has been collecting about the Spiker family. Highlights of the 2012 Spiker Family Reunion
Fun Facts about the Spiker Family
By Haley Conley
These are just some fun and interesting facts about the Spiker Family that I've been collecting. 
Jake was born in 1881, the same year as the Gunfight at the OK Corral.  Gay was born in 1884, the year the Statue of Liberty was completed in France.
Jake and Gay have 117 descendants (75 are direct/adopted,) spanning four generations.  Amazingly, we have only lost 12 of these – Jake & Gay's seven children, Kitty's twins and son, Dorothy's only child, and Boots' son.
Out of Jake & Gay's "seven plus two" children, Brad (1908, the Model T came out) was 17 years older than Bob (1925, Mein Kampf & The Great Gatsby published.)  And Bob was eight years older than Boots and Ann, the twins Gay took in as foster children when they were little.
They lived through WWI and the Great Depression.  Brad, Lynn and Bob all served in WWII.  The Spikers didn't have a car until well after Bob was born because Brad had to go get the doctor on the horse.  The farm didn't have electricity until Bob, using Jake's horses to haul the logs, installed utility poles along Bear Run some time after he & Dean were married.  And that outhouse was not just for decoration. 
 In the second generation, almost 20 years separate Paula (1945, A-bomb was first tested) and Bobbi (1965, gasoline was .31 cents a gallon.)  There is a 29-year gap between the oldest (Kitty's twins) and the youngest, (Ann's son, John).
This generation saw the Vietnam War and the Space Age.  What must it have been like in a time when microwaves weren't in every home, you could see a man walk on the moon before the TV shut down at night, and central air didn't exist?
The third generation has 40 members over 40 years –  Paula's boys, Chris Nolan (1970) and Ryan Thrush (1971) on the outer edge and Jane Hayes' four children bringing up the rear from 1996 to 2010.  (I find it amusing that, although Brad was 17 years older than Bob, Bob's first grandchild is four years older than Brad's.)  Our generation saw the Cold War and both Iraq Wars, Atari and Nintendo, household computers and cell phones the size of a book.
The fourth generation's numbers climbed to 46 in just 21 years.  Genders are divided pretty evenly with 22 girls and 24 boys.  This generation had the most births in one year – six in 2009.  Thirty-four of these children were born after 9/11.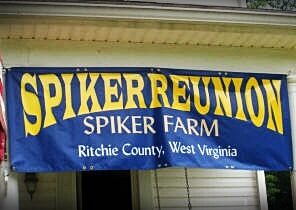 Announcements
Submitted by Haley Conley – These are the results of the contests at the Spiker Family Reunion.

The cornhole competition started with eight teams playing three rounds.  John Spiker and Chris Swiger came in first, Brock and Missy came in second place. 

Grant Hicks (18 1/2" bass) & Slate Swiger (18 1/2" catfish) tied for the fishing contest's LARGEST fish.  Blake Benson won for the MOST fish (six) and Slate Swiger won for SMALLEST (4").

And the unofficial award for MOST EXCITED goes to Blake Benson!!!