February 2017
Gay Spiker Organized First 4-H Club in Ritchie County West Virginia
Gay Spiker Organized First 4-H Club in Ritchie County West Virginia
Gay Spiker Organized First 4-H Club in Ritchie County West Virginia
By Bobbi Spiker-Conley
Did you know that Gay Spiker organized the first 4-H club in Ritchie County, West Virginia? That's what my mother wrote when she captioned this photograph from one of her albums. I recognized my father, Robert, (center,) and my uncles Brad (far left) and Lynn (far right) but the list of names identifying those in the group was missing from the file.
Mark Spiker explained that this was a photo of the Victory 4-H Club. It was probably started by Gay Spiker but his father, Brad Spiker, was the Leader. Mark has this framed copy of the group's Certificate of Achievement from 1932 that lists some of the names including: Manley Cox, Juanita Flesher, Guy Ireland, Clyde Mason, Oletta Nutter, Susie Nutter, Archie Prichard, Brad Spiker, Dorothy Spiker, Lynn Spiker, Kitty Spiker, Robert Spiker, Gladys Townsend and Rex Zinn.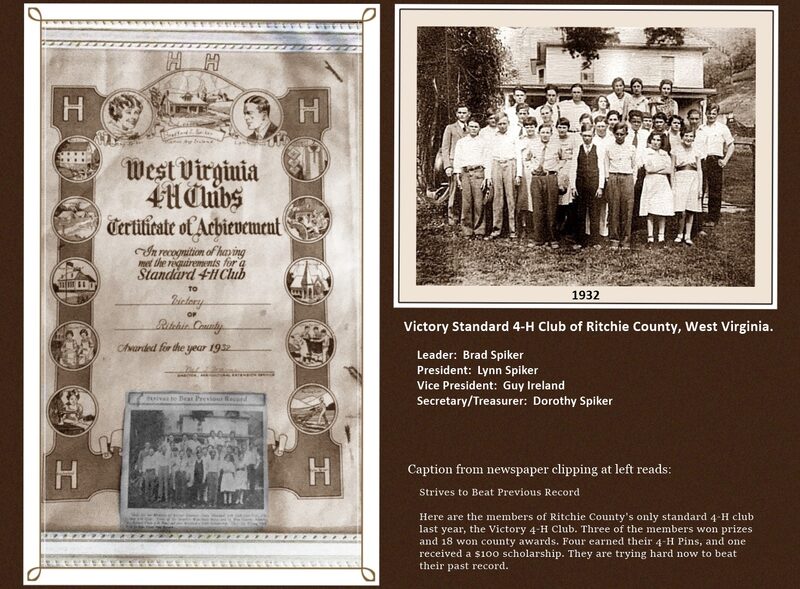 The Spiker family has been active in Ritchie County 4-H for five generations. And those that moved away from the family home continued the traditions in Doddridge, Hardy, Hampshire, Harrison, Gilmer, and Pendleton Counties.
Of course, we cannot forget Lynn Spiker's commitment to the youth development program in Lewis County. Daughter Melinda tells us more in the second installment of our two-part article, "Introducing: Jacob Verlynne Spiker." (If you missed the first installment, you can read it here.)
---
Introducing: Jacob Verlynne "Lynn" Spiker (part 2 of 2)
By Melinda Chambers
As a 4-H'er growing up in Ritchie County, Lynn Spiker "lived and loved" 4-H.  He took livestock projects and every summer he walked the livestock to the fair.  He is pictured on the first WV Purebred Sheep 4-H project book (a copy of which is framed in his granddaughter's 4-H Extension Office in Hampshire County.)
Dad always had a natural ability for working with animals. He took his interest in livestock even further 

when he graduated from WVU with a degree in Animal Husbandry, and later receiving his Master's Degree in the same area. He served as County Agricultural Extension Agent in Lewis County for 33 years, spending a lot of his time at various local and state 4-H events at Jackson's Mill. 
Dad was always very active with the 4-H camping program. He provided strong leadership, and was the sole agent in charge of county camp on several occasions. He always taught a "Horse Sense" class in the barn during county camp. His was the only class that increased in participants as the week went on. He brought in horses and taught kids not only how to ride the horses, but how to understand them. He also taught a rope halter class, which was very popular because campers would then use the halters for their 4-H calves. He helped sponsor a county 4-H exchange trip to Minnesota one year and conducted the council circle for them when they visited our state. 
Dad always believed that it was very important to invest his time, energy, and talents in the youth because they represented the nation's real wealth. I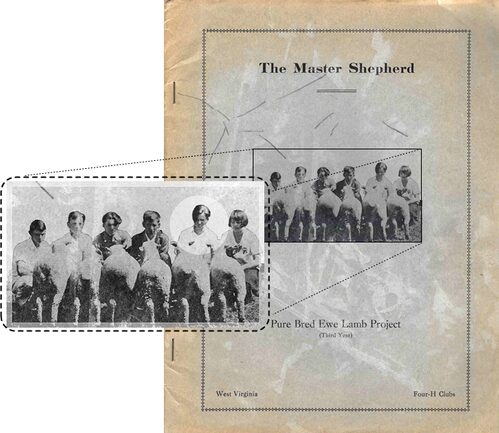 quickly discovered that if I was to ever see my Dad in the summer, then I would need to enroll in the 4-H activities that he was always working on (I was an active "4-H-er" long before I reached my 9th birthday.) Dad was always working with youth on livestock judging, grooming and showing of animals, and teaching youth how to give a good set of reasons to defend their decisions. While he did those things, he tied in character building, self-esteem, and good moral judgment. The many youth he worked with throughout the years always seemed to consider my dad a good friend, and a large number of them continue to work with 4-H youth, either as Extension Agents or as volunteer leaders.
I am always amazed as I travel throughout the state how many former 4-H'ers have known my father. Since we lived so close to Jackson's Mill, he had the opportunity to work with youth from throughout the state at various livestock and camping events. Joe Harper, owner of Harper's Store at Seneca Rocks, once told me that my dad helped him trim his steer at the State Livestock Roundup because his agent couldn't be there. He said that meant a great deal to him as a young boy away from home, and he never forgot that kindness.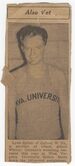 Dad's particular expertise in agriculture was with cattle. Not only did he have an eye for conformation, but he would pass that information along to anyone wanting to learn. He coached numerous 4-H livestock judging teams, with teams going on to national competition on numerous occasions (my brother even won the national 4-H sheep judging contest in Chicago one year.) He held workshops every year, both locally and regionally, to help 4-H'ers learn how to show, groom and judge their livestock. He also had the reputation of always winning the County Show at the State Livestock Roundup at Jackson's Mill (for at least 20 years.) After retirement, many Extension Agents sought his advice. 
Besides finding time to work with the youth, Dad was always concerned with community affairs. He was active with his local Rotary Club, holding numerous offices, as well as serving as president. He was a church deacon, Sunday School teacher, and 4-H All Star life member.  He was always in charge of barbecuing chicken for the 4-H fund raiser every year and when the high school didn't have a wrestling coach, he also took over that duty (he wrestled for WVU.)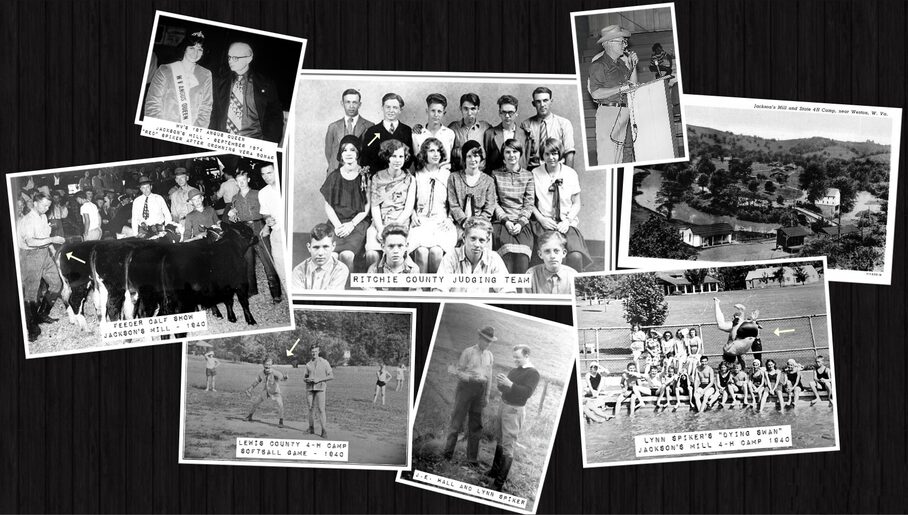 Editor's Note: be sure to visit the National 4-H History Preservation Program.
Lynn Spiker Family 4-H Background
3-generation Extension Agents:  
Lynn - Agricultural Agent in Lewis County – 33 years
Melinda - 4-H Agent in Hardy, Hampshire, Gilmer, and Pendleton Counties – 14 years
Kelly - Hampshire County – 17 years.
4-H Life All Stars:  Lynn, Melinda, John, Kelly
4-H Leaders:  Sue Ann, Melinda, Kelly
State Hall of Fame: Lynn - Inaugural Class
State Alpha I Staff:  Melinda, 5 years
National 4-H Club Congress:  John and Kelly
National Canadian 4-H Conference Exchange: Melinda
---
From an article when Dad retired: 
One of the most rewarding areas of his work was with the young people in the 4-H program.  Mr.Spiker, upon his retirement, said, "The youth of Lewis County have been the highlight of my career—they're my pride.  I still say they haven't changed a bit."

Spiker's ability to work with young people is evidenced by their accomplishments of the 4-H youth.  For the past 15 years, Lewis County has taken first place in the State-County Feeder Calf Show.  The last two years, Lewis County has had all four grand champions.

In addition, seven of Spiker's 4-H Livestock Judging Teams have competed nationally in Chicago at the 4-H Club Congress.  Spiker's son, John, on an individual basis, won first in National Sheep Judging in 1963.

Mr. Spiker will continue to work with this year's livestock judging team this summer, and also plans to remain active in agriculture.