June 2013
Husband & Wife Earn Medical Degrees
Husband & wife, Alison & Grant Morris, earn their medical degrees
Husband & Wife Earn Medical Degrees
Written by:  Jake Stump, University Relations/News
Reprinted with Permission:  "Diary of a Mountaineer:  2013 Commencement"
---
On Sunday morning, Grant Morris and Alison Spiker lined up with the other students awaiting their medical degrees at the School of Medicine ceremony. They didn't get to stand in line side-by-side, though you could probably see little cartoon hearts pop up next to them as they traded starry-eyed gazes.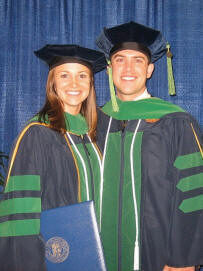 Morris and Spiker are married – united through God, medicine and being Mountaineers.
They first met as undergrads here. Morris, of Morgantown, stuck around after high school to study psychology at WVU. Spiker, of Ripley, came here to study biology and serve as a multi-year captain for the women's cross country team.
Most women might envy Spiker's skills of running, which can come in handy when approached by a wooing suitor. But Spiker didn't run away. They struck up a friendship through a college ministry and after two years, that friendship turned into something more. Both decided to pursue med school at WVU and on one particular night of studying together, Morris had a question for Spiker. "I found a ring for $70 that had scripture on it from the book of Ruth," he said. "In Hebrew, it said, 'Wherever you go, I will follow.' It's a symbol of our commitment together."
Spiker didn't pick up on the fact that Morris was down on one knee. As soon as he started quoting scripture, she knew something was going on. "I was, 'Oh my gosh, he's quoting scripture. That is really interesting.' Then it clicked," she said.
The couple went running to the altar. Morris had morphed into a runner himself, often joining Spiker on those 5 a.m. runs. I'd still bet my money on Spiker. "Med school is challenging," Morris said. "To have your wife and best friend beside you in the trenches at the same time … I wouldn't have made it without her. I couldn't wait to hear her name called and watch her cross the stage and get hooded. I was next to her when she was putting in countless hours and late nights. Now it's our big day of officially becoming physicians."
Spiker said, "I wouldn't have made it, either. God has been a big part of our life from the beginning, and we are both lucky to be in love with our best friend."
And we are lucky to have both of them as new doctors representing the gold and blue.
Announcements
Submitted by Connie Larew Holovics – My mom, Delene, & Aunt Ann have a BIG birthday this week. They will be 80 years old (on February) the 7th. I'm sure they would love to receive birthday cards from friends & family, since both have been house bound with flu/pneumonia (Aunt Ann) and knee replacement (Mom). Let's flood their mailboxes w/BD wishes this week.  Thanks everyone!!

Submitted by Jeanna Hayes – This Sunday, February 10th, 2013 at 2:00 pm we will be celebrating Mom's (Aunt Ann) 80th Birthday! 215 West Main Street, Harrisville, WV 26362

Submitted by Cathy Spiker-Gregis – Two of my grandchildren graduated from high school in May.  Shelly's son, Clayton Yeager, is playing football at Concord University.  Keri's daughter, Morgan Hurst, is attending Fairmont State University.

Soon after their graduation, we sold our home in Jane Lew & purchased property near our daughter, Keri, along the South Fork of the Hughes River in Doddridge County.  We knew we could live in our RV for a few weeks while our new home was being manufactured.  Unfortunately, those few weeks became MONTHS.  Due to numerous, unexpected delays, we were unable to move into our house until just a few days before I had knee replacement surgery.  The surgery went well.  I'm slowly recovering but anxious to get on my feet again soon.  For one thing, I'd like to learn more about the historical one-room school house that is on our new homestead.  We're located very close to the Spiker Farm so I am wondering if anyone in our family attended or taught there.  Does anyone know this school house's name and history?

Submitted by Chris Chambers – Attached are the pictures from the cover of my new solo music album. The album title is "Weathervane" and features 14 of my original tracks and one cover song (total of 15 songs). The style of music is mixture between country, bluegrass and gospel. I finished the project in May of this year and got the finished product back in June. The project took nearly a year and a half to complete and is selling well. It was recently juried and accepted into the Tamarack and is being sold there now! Anyone who would like to purchase a copy can do so from me anytime at RR 1 Box 189X, Keyser, WV  26726 / Home Phone:  304-298-2124.  The cost of the CD is $15 plus shipping.  Thank you!

Submitted by Haley Conley-Cloughessy – I have created a photo site for all the pictures I have been scanning and taking over the years. I already uploaded the ones I've taken from Aunt Jean's collection and some batches from my grandma Dean. If you want to become a "member" so that you can comment, upload your own photos, or be notified when I upload more, just send me your email and I will add you to our group.

Submitted by Kate Spiker – The Spiker Farm will once again host a SEBRA sanctioned bull ride.  Save the date! June 14th and 15th,  2013.  For more information, "Like" our page on Facebook (Spiker Farm Bull Ride) or visit our website at SpikerFarm.com.