July 2021
It's in the Mail
Letter Closings and Postscripts / It's in the Mail
Letter Closings and Postscripts
By Bobbi Spiker-Conley
Editor's Note: The following is part of a SERIES of articles (that began in November 2020) about Jake Spiker and Gay Zinn's courtship letters. Links to view previous editions are found below this article.
---
Letter Closings and Postscripts
I recall from elementary school that "Check-Yes-or-No" letters were regularly passed between classmates. Most were signed with one or more "kisses" – XXX. Some were stamped with the initials "S.W.A.K." – sealed with a kiss. I thought, gosh my friends are pretty smart to come up with that one.
But then I learned my mother already knew what the letters stood for, and that she and my father had signed their own courtship letters that way. Wait. What?  
So, if my friends hadn't made it up, and my parents had used it when they were teens, just how long had this writing expression been around? From what I can tell, no-one really knows. Most internet theories state it was a tradition started by WWI soldiers. Hogwash. My grandparents were using these "emoticons" before that. I guess the "when" and "by whom" do not matter. What is interesting is that so many generations have been expressing themselves in similar ways.
Here are a few acronyms and poetic declarations that closed many of Jake and Gay's Courting Letters.
28 Apr 1905 – "Yours forever, Jake. PS – Take all mistakes for kisses."

4 May 1905 – "Yours truly, Gay. May your cares all flee away, Like dew before the sun, When you have nothing else to do, Just think of me for fun."

1 May 1905 – "Yours truly, J.S. PS – I.S.Y.A.K."

18 May 1905 – "Yours till the crow dies, ha ha. J.S. – S.W.A.K."

22 May 1905 – "I.S.Y.A.K. from Gay. Be good and you will be happy. Answer soon."

19 Sep 1905 – "You must excuse these rabbit tracks. Your best friend, J.S."

9 Oct 1905 – "May peace attend and heaven direct the dark eyed boy whom I respect. M.G. Zinn"

13 Oct 1905 – "Days of peace, nights of calm, bless your days forever. Loving Wishes J.S.  I.S.Y.A.Kiss"

26 Nov 1905 – "Your eyes are bright, your features are fine, Oh God bless you, how I wish you was mine. ISJAK. Your Jake."

1 Dec 1905 – "Remember me while life is sweet. Remember me till next we meet. And if the cold grave be my lot. Tis all I ask, forget me not. Yours I remain, Gay."

18 Dec 1905 – "Some like tulips that grow in the park, but I like two lips that meet in the dark. Bye Bye. With love for you, I am still the Teasing Gay."

21 Dec 1905 – "Wrote with a pencil. Seal with a kiss. God bless the one who opens this. Yours forever, J.S. Good bye and Merry Xmas."

11 Feb 1906 – "This is all love and not half of my love for you. Your Jake."

2 Mar 1906 – "This is a fine day don't you see. I'll send you a kiss and then you will owe me. Just a kiss. From your own true love, J.S."

11 Mar 1906 – "I hope you will forget me not. I sent you all the love that I have got. The roses are red. The violets are blue. And not a kiss did I receive from you. XXXX. Your lover, J.S."

14 Mar 1906 – "It is vain in life's wide sea. So ask you to remember me. Wondrously it is my lot, Just to be known and then forgot. From Gay, with much love."

18 Mar 1906 – "I hope as the days grows longer our love will grow stronger and the day will soon come when we will become as one. This may sound strange to you, but I know that it will come true. And don't you think so too? Your own lover, J.S."

28 Mar 1906 – "Old times are pleasantest. Old friends are truest. Bye Bye from Gay."

13 May 1906 – "Here is a kiss. I will bet a kiss that you read this. Good bye, J.S."

16 May 1906 – "Though far from thee I'm doomed to roam, Thy heart shall ever be my home. From your girl."

18 May 1906 – "The world is wide and the sea is deep. In your arms I would love to sleep tonight. From your lover, J.S."

9 Sep 1906 – "Girls are always very fine, That are happy all the time. Boys very true, That are always happy too. Bye Bye, from Gay."

14 Nov 1906 – "Do you think in the after year, With the glory of youth departed, We there shall stand still hand in hand, And harte to harte as we started. Your truest, J.S."

30 Dec 1906 – "I wonder much what you and I did till we knew and loved. Bye Bye Dearest. Gay"

7 Feb 1907 – "From one who never ceases to love and think of you. Good night. J.S."
The following postscript was written on a separate sheet of paper and tucked into the envelope postmarked 31 Oct 1905. It sounds like Jake was a little jealous (but what a poet!!!)
"Well as this is the night when all the witches sail forth, I will not do any more mischief than writing you a few lines extra and my subject shall be, what happened on the night of October 21, 1905, and it and it reads like this.
Mr. Mood Eheret and Roy Bee,
and who do you think they went to see?
Miss Katie and Gay, I am sure I know,
for their ways and actions tell me so.
Now Mood he was a very jolly fellow,
and he plays a trick on the other fellow.
So he took Miss Katie on his knee,
and Gay had to entertain Mr. Bee.
I am no poet you can easily tell.
The next time throw one or the other into the well.
Just say I am sleepy and can't stay awake.
I have got but one beau, and his name is Jake"
---
It's in the Mail
I also recall from elementary school learning the five parts of a letter and the proper way to address an envelope. At that time, my parents' address was simply "Route 1," Lost Creek. But so was everybody else's along that strip of road. No house number. No box number (those came later.) And we didn't even live in Lost Creek. That was the location of our post office — not the location of our Good Hope home. So, we all relied on our letter carrier to recall the names of every resident in every household along the route for accurate delivery.  
Similarly, the "courting letters" were originally penned with only a name, city and state. But over time, the Post Offices regrouped, Rural Free Delivery came to the area, and street names and housing numbers were added. The one thing that remained consistent over the last 115+ years, however, is our habit of complaining about delayed, misdirected, and missing deliveries.
20 Oct 1905 – Gay wrote, "This evening I will endeavor to write you a few of my many thoughts. I would have answered sooner, but they have moved the P.O. and have been having so much trouble that they haven't sent out any mail, nor can't receive any. We are all sick over this."

5 Nov 1905 – Gay wrote, "The rain is falling fast, and I am very lonesome this afternoon. I will spend a few moments in writing to you. I received your letter all O.K. Our mail is all right again. I am awful proud of my Halloween letter. You are quite a poet." (referring to the post-script above)

10 Nov 1905 – Gay wrote, "Received your letter last evening and read with pleasure this morning. I went over to Oxford to meeting last night and I didn't know that we had got the mail last evening. Our P.O. is gone again, and we don't know what they will do next. But I trust we will get our mail some way."

11 Dec 1905 – Jake wrote, "I have not heard from you for a month. I came up here [to Clarksburg] before I received your last letter. I left word for them to send my mail to me and I have not received any yet so I thought I would write and let you know where I am at."

14 Dec 1905 – Jake wrote, "I had begun to think that I never would hear from you again. I left word for them to send my mail to Clarksburg but they was so slow that I got tired of waiting, and Tuesday I sat down and wrote a letter to you and directed it to Holbrook for I thought maybe you had got back home by this time, and now I will direct this one to Newbern and surely one of them will find you."

28 Jan 1906 – Jake wrote, "You wrote last Sunday, and I never received your letter till yesterday. But I don't blame my little girl for it. I don't think that she would do anything that she thought would cause me trouble. But I do blame Post Masters and mail carriers."

6 Jun 1906 – Gay wrote, "I received your letter this evening and was much surprised to learn that you hadn't received my letter. I wrote you the same week I received your letter, and I also was getting uneasy about you. Indeed, I can't see where my letters go to."

21 Aug 1906 – Gay wrote, "We have been having an awful lot of trouble in regard to our mail. But I think they will get it all right soon. We have free delivery now." (referring to Rural Free Delivery, aka RFD.)
Their complaints didn't need to travel far because the Oxford postmaster was none other than Gay's 2nd cousin, Ernest Erickson Zinn. Indeed, that may have been the reason Ernest's wife, the former Vallie Gay Calhoun, inadvertently opened a letter that wasn't addressed to her.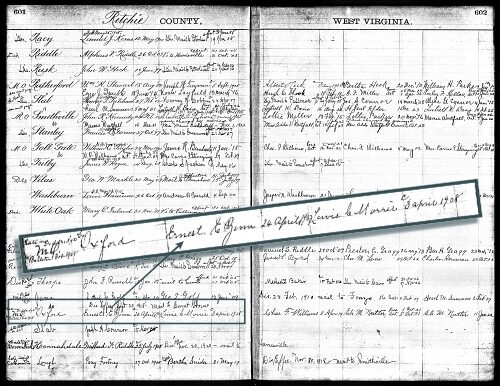 28 Aug 1906 – Gay wrote to Jake, "Mrs. Gay Zinn, Ernest Zinn's wife, opened your letter Saturday evening thinking it was for her. She put it in an envelope and sealed it up and wrote me a letter and explained the matter. She said she didn't read any of it. If she did, I bet she thought a lot."
As customary, Jake had addressed the envelope to "MISS Gay Zinn." However, the newly married (14 Jun 1906) "MRS Gay Zinn" didn't detect the title when the letter arrived at the post office and she tore open the seal. On 28 Aug 1906, Mrs. Ernest Zinn wrote to apologize:

"Dear Gay,

By mistake I opened your letter, but never took it out of the envelope. Ern[Ernest Zinn] was here and stopped me before I got it out of the envelope. I had forgot about your mail coming here and I thought it was mine. The whole crowd saw that I did not read it and are watching me put it in the envelope.

I made Ern stay and watch me so he could prove that I did not even look at the beginning. I am sorrow [sic] I made the mistake. But I did not look inside. Please pardon me.

Yours as ever,
Mrs. Gay Zinn

PS - I will look hereafter. I have a cousin and I thought it was her from Clarksburg. It looks like her handwriting. Ernest noticed the Miss when I called it Mrs."
I agree with Gay. If Mrs. Ernest Zinn had read the letter, she probably would have "thought a lot" because there was "a lot of misunderstanding" going on between the author and its intended recipient. 
It all began when a mutual female friend of Jake and Gay's moved to Clarksburg that summer. Gay asked Jake if he had seen her.
13 Aug 1906 – Jake replied, "Yes, I saw her Saturday night and she is just the same girl. I did not know that she was here till I went to the office and got a letter, and when I tore it open, I found it was from her, and that she was in town and wanted me to come and see her.

She is not half the girl that my little Gay is, my pure truest love. You must never tell anyone that I said she wrote me a letter. You know that I am not afraid to trust you, but you know if she knew that I told you, she would be mad and so would [her beau.] …My dear little girl, you must not think hard of me for not writing sooner."

21 Aug 1906 – Gay responded, "I received your letter yesterday. Was truly glad to hear from you. Of course, I don't think hard of you, for you won't think of me so often now that you have her to chum with. I guess I will write to her beau and tell him to come over, ha ha."
Gay was joking, of course, but as we all know, the written word can be easily misinterpreted. And without the benefit of verbal and physical cues, poor Jake discovered it can be difficult to distinguish the sarcastic from the serious. Even when the writer includes a token "ha-ha."
24 Aug 1906 – Jake wrote, "Dearest love. This evening I will try to answer your short and cold letter which I received this evening. I just began to think that you had clear forgotten me. And to think you would accuse me of forgetting you for anyone else. I never cease to think of my dear.

Indeed, I am not chasing around with [our friend] every day. I have seen her twice a little while.

Gay you said once that you would be true to me as long as I would be to you. And did I not tell you that I would always be true to you? Now you write as though you thought I was not as good as my word.

Dear, I never think of you in that way. I never think of you as being anything else but true to me. Maybe it is because I think so much more of you than you do of me…I am sure we can make everything all right."

28 Aug 1906 – Gay wrote, "I received your letter yesterday. Was truly glad to receive your letter but wasn't much pleased with the contents. You are always getting the wrong meaning of my letters. I believe you are a little cranky. I want you to cheer up and don't come out here with such a melancholy look as you had when you wrote that letter. I am just as Gay as ever. P.S. if this gets cold, stick a match to it, ha ha."
Click here to: return to the previous post or advance to the next post in this series
Or go back to the very beginning of the series — turn to the November 2020 edition of the Spiker Family Gazette.
Announcements
Submitted by Melanie Spiker Fouse – My great nephew, Derek Gifford, finished his Eagle Scout project and donated it to the West Milford Park. With training from his grandfather, my brother Jeff Spiker, who you may remember from his wood carving booth at the Jane Lew Fire Hall on Labor Day/ Jubilee weekends in the past, Derek carved and made this Welcome to the Park sign. I'm so proud of him!