August 2007
It's no Bull -- John Bob Spiker Risks Life & Limb
Details of the First Annual Championship Bull Riders event on the John Spiker Farm in Jane Lew, WV.
Where is Everyone?
By Bobbi Spiker Conley
It has been two months since we unveiled the Spiker Family Gathering Place. We are all very excited to hear how much you are enjoying the site. Now we're hoping you'll want to get more actively involved in its growth. You can help us expand our content through your personal participation. Here's what you can do.
Be sure to visit our Forum and take part in our fun (and educational) History Questionnaire.

Drop us a line to let us know about any upcoming events that you think would interest the family. (For example, I only learned about the Bull Riding competition a couple days before the event. Thankfully, Cathy was able to attend and has provided us with the article at right.)

Send me your e-mail addresses so that I can be certain to inform you of upcoming events and activities – both on our website and those in our communities. Some of the addresses I have are outdated (two names off the top of my head are John and Sue – if you're reading this, I no longer have your current e-mail addy.)

We are still looking for volunteers to work on the Family Medical Tree project.

Very soon we will host our firstFamily Feud. Send us your picks for your favorite online games (or create one of your own). Again, be sure to let me know how to contact you by e-mail so that you won't miss any of these events.

The FAVORITE place on our site is the Library. Please….submit more stories. They are great!

Help us spread the word about the site to other relatives and friends. Ask them to visit us at www.SpikerFamily.com .
It's No Bull.......John Bob Spiker Risks Life and Limb
By Cathy Spiker Gregis
Buckin B Cattle Company and the Southern Extreme Bull Riding Association held their first annual Championship Bull Riders event on the Spiker Farm in Jane Lew, West Virginia on July 28, 2007 at 7:30pm. Producer Matt Dejon and John Bob Spiker hosted the event that boasted 30 entries, with the top six in the short round. Complete with a Mechanical Bull, Mutton Bustin', and, of course, the featured Championship Bull Riding, there was plenty of fun for everyone.
Bull Riding is the most recognized, popular and dangerous part of any rodeo event. A cowboy slips his hand into a slit in a rope (called a bull rope) that fits snugly around and behind the bull's right shoulder. The bull rider uses his free arm for balance; he is disqualified for touching the bull with his free hand. Requiring balance, flexibility and coordination, the cowboy attempts to stay on the bull for eight seconds.
Facing down a two thousand pound bull takes as much mental preparation as it does physical ability. An often quoted saying about bull riding is "It's not IF you get hurt, it's WHEN." Unlike a horse that will try to avoid stepping on a downed person, bulls go out of their way to attack anything that gets in their paths. Bulls compete for many years, gaining experience and enhancing their skills over time. They learn from their mistakes and change strategies to gain the upper hand. Riders are stepped on, have their faces shoved into the dirt or they are swung around like a rag doll.
At this event, one rider was seriously wounded after "Dash-Boarding", a term used to describe the rider's head hitting the bull's head – in this case, it was head to horns. The cowboy is recovering in Pittsburgh, PA, doing well after having reconstructive surgery for massive face and head injuries.
Bulls are frightening. Cowboys are fearless. But it's the bullfighters, clowns and barrel men that are considered by many to be the true heroes of the sport.
These fighters enter the ring before the bull is released from the chute. It is their job to distract the bull thereby allowing the dismounted rider to escape to safety. Bullfighters are in constant danger until the bull exits the arena. Our own John Bob Spiker and his bullfighter partner, Brett Carpenter, performed magnificently as they aided these brave riders
HIGHLIGHTS:
Jeff Webb was the Bucking B Cattle Company announcer.
SEBRA Cowboy Tommy Jones from Tennessee won First Place and is in the running for Rookie of the Year.
Bret Maurer took Second Place.
The bull riders stayed at John and Sue Spiker's Bed and Breakfast, "Sunny Point".
Byron Spiker encouraged friends to go into the corn field to pick corn and put it on the grill. Now that's fresh!
The event drew a crowd of about 600 people.
John Bob Spiker said he was thankful for the turnout and hopes to see everyone at next year's bash.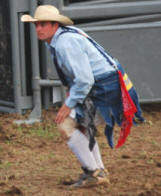 Announcements
Adelene Maxson Spiker is back in the hospital and has been taken from Weston's Stonewall Jackson Memorial Hospital to Ruby Memorial in Morgantown, WV. Cards can be sent to her there.
Ann Bunner's husband has been ill but is now recovering at home.