September 2010
My Husband's (Ryan Nolan) Life as a National Park Ranger
Barbara Thrush shares her thoughts & family photos about her husband Ryan's career as a National Park Ranger
Editor's Note:  We've all heard the recent news headlines about the devastating fire in Boulder, Colorado.  Paula Nolan's son, Ryan Thrush, is one of the Rangers that "worked the fire."  Intrigued about his participation, I asked Ryan's wife, Barbara, to give us some more information about Ryan's career as a National Park Ranger.  Barbara shares her thoughts and family photos below.
---
By Barbara Thrush
---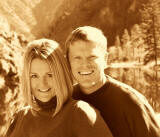 You might think a park ranger's life is one of quiet contemplation in the woods. But Ryan spends a lot of his time outside of the forest. As Ryan's wife, I have watched him navigate his career in the NPS (National Park Service) for the past 8 of his 15 years as a law enforcement park ranger. One of the most common misconceptions about his job is that he is just a "ticket writer"; someone who tells you to keep your dog on a leash or to fine you for not having the right permit or gives you colorful brochures on the park you are visiting. Actually, that is the furthest from the truth. Ryan's job encompasses so much. Here are just some of the few things he does:
Searching for and rescuing visitors of the parks,

Hunting fugitives and illegal aliens across our borders,

Battling wildland fires and protecting the millions of dollars worth of equipment it takes to fight those fires, building fire lines with hand tools and chain saws, and policing fire closures,

Recovering human remains of people who end their lives in the parks,

Representing the NPS in court cases,

Protecting one of the largest dams in our state from terrorism,

Providing EMT services to both visitors and firefighters,

Managing employees for both his park and firefighter crews,

Providing dive rescue and recovery for Colorado,

Being part of high angle search and rescue for injured climbers on some of the most challenging terrain in the world; some of those rescues require him to dangle off cliffs of over 2000 feet,

Doing office work including payroll, hiring, and communication with other employees,

Managing the volunteer campground hosts.
I have so many stories that truly make Ryan a hero in my eyes. One of the most remarkable things, in my opinion, was when my husband was forced to spend the night on the side of the Black Canyon with a 16 year old girl's body who had jumped and killed herself. He did that just to protect the body from the elements and provide closure for her family. This happened in the dead of winter. He was flown by helicopter to the bottom of the Black Canyon near the river.  He then climbed 1000 feet up the cliffs through snow and ice only to run out of daylight, thus climbing back down to the bottom of the canyon to find a flat place to sleep in the snow. The next day he woke up and climbed back up the 1000 feet using an ice ax, crampon metal spikes, and rope. It took several hours to finally reach the body. Because it was snowing and it was already dark again, he was then forced to sleep with the body that night. The next day he recovered the body by building her into a load that hung beneath the long line under the helicopter, after which he rappelled and hiked another 2000 vertical feet straight up to climb out of the canyon. 
Another time he was asked to search for a missing 19 year old boy in a high mountain lake area. Once again, it was winter. He donned his wetsuit and dove for eight straight hours looking for the boy. A cadaver dog was brought in to search for the body in a boat above the water. Remarkably Ryan found the boy 40 feet below the surface. His parents were so thankful that the young man's body was recovered and that he would have a proper burial.
I know these examples may sound morbid, but I believe it takes someone very special to be able to handle these things and then come home to be a husband and father. I have so much respect and admiration for him and for the job he does.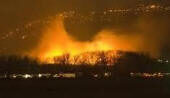 This past Labor Day a 10,000 acre forest fire started near Boulder, Colorado. This fire started after another vehicle collided with a propane tank, in what turned out to be a nightmare of epic proportions. The Four Mile Canyon Fire that ripped through the mountains west of Boulder is now the most expensive blaze in Colorado history. The Rocky Mountain Insurance Information Association estimates the fire caused some $217 million in damages, and that price tag could still rise. In the end, the fire took 163 homes and burnt more than 10 square miles. Ryan was dispatched for security on this fire after 120 homes had already succumbed to the fire. He provided home owners with security, kept people from going on closed roads, managed a security crew of over fifteen, and helped assist with a wide variety of helicopters and fixed-wing aircraft that were used for aerial firefighting.
To summarize all that he does on a daily basis would fill a book; and maybe someday we will write one. But until then, remember always that Ryan and our NPS law enforcement park rangers are willing to risk their lives to make our parks safe and help preserve them for the future.
Thank you Ryan for being such a wonderful husband, father, friend and of course, such a positive role model for so many!
---
Announcements
Submitted by Shelly Gregis – At the Doddridge County fair this year, we took everything in Showmanship except poultry.  Clayton took First in rabbits.  Cheyenne took First in goats and hogs.  Robby got First in lambs and steers and Grand Champion in goats.  Devon got Grand Champion market steer and Reserve Champion lamb.  This year was exceptionally good for us as we raised our first year of lambs.  All of the lambs except one took First in their classes and went on to the final drive.  We were so excited!  All in all, it's been a wonderful year for us.

Also, Clayton is doing very well in football. He currently ranks 5th in Sophomores on Maxpreps.com and 23rd overall when Seniors are included for tackles. His coaches have told him he has a chance at State this year. Go Clayton!