July 2010
Remembering Francena Miller
In Loving Memory of Francena Miller 1919-2010.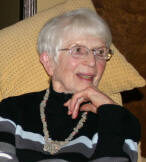 In Loving Memory
Francena Miller
1919 - 2010
Francena L. Miller, 91, of Columbia passed away on Saturday, July 10, 2010, at University Hospital.
A celebration of her life for family and friends will be held at later date.
Francena was born Jan. 29, 1919, in Ithaca, NY, the daughter of Frank and Vienna Lounsbery. In 1966, she married Paul A. Miller in Morgantown, WV, and enjoyed 44 years of marriage.
She was a graduate with two degrees from Cornell University. She then achieved her doctorate in rural sociology and family studies at The Pennsylvania State University. She proceeded successively through a number of noteworthy posts: professor of rural sociology at Penn State, assistant dean and director of the School of Home Economics at West Virginia University, dean of the College of Home Economics at the University of Connecticut, national director of the American Association of University Women in Washington D.C., professor of sociology at Queens College in Charlotte, N.C., and professor of family studies at the Rochester (N.Y.) Institute of Technology.
Over that period, she was a leader or participant in numerous state and national commissions on issues of women, families and poverty. As a senior program consultant of the W.K. Kellogg Foundation, she reviewed projects in Africa, Greece and five nations of Latin America.          
Next, in 25 years in Rochester, she was deeply engaged in civic projects in her major fields and, in addition, served on several boards of banking, college and industrial institutions. She received a variety of awards for such civic contributions, including an honorary doctorate from Nazareth College of Rochester.
In her later retirement years in Columbia, Francena was especially interested in the Unitarian Universalist Church, the women's support group of the Missouri Symphony Society, tutoring in English as a second language and serving on the advisory board of MU's Osher Lifelong Learning Institute.
In addition to her husband, Paul, survivors include son Michael Nolan and daughter-in law Paula of Columbia; three grandsons, Christopher Nolan and wife Jennie and two children; Ryan Thrush and wife Barbara and three children; and Evan Thrush and wife Jennifer and two children. Francena had a unique and cherished interest in and paid loving attention to the development of the three grandchildren and seven great-grandchildren.
Francena was preceded in death by her parents, Frank and Vienna Lounsbery; and a brother, Royden Lounsbery, all of Ithaca.
Memorial contributions may be made to the Lounsbery and Miller We Build Fund, the Kiwanis Club of Columbia, P.O. Box 158, Columbia, MO,  65205.
Online condolences for the family may be left at www.parkerfuneralservice.com .