June 2011
Spiker Auction Sets Record in 2011
Haley Conley's cross-stitched wall hanging sets Auction record for an individual item of $550. Highlights of the 2011 Spiker Family Reunion. Alice Spiker passed away on May 25 at age 94.
A few days before the reunion, Mike Spiker informed us that his beloved mother, Alice Williams Spiker, 94 had passed away peacefully of natural causes on May 25 at Hanna's House Assisted Living in Marietta, Ohio.  He insisted that the reunion would go on as planned saying, "While we know her death puts a cloud over the weekend, she loved the family reunion and would have wanted it to go forward.  This dark cloud will be lifted, in part, by knowing it is replaced by a new bright cloud – her cloud filled with love, flowers and hope for the next generation – now that she is in heaven."
Indeed, I am told her presence was keenly felt throughout the weekend, as were the memories of others that passed in previous years.  One could feel it in a warm embrace and see it in the faces of the grandchildren. 
We continue to pass along the memories and traditions as our family grows in number each year.  Keeping up with that growth can be quite a task.  Just ask Haley Conley.  She spent an entire year cross-stitching a beautiful wall hanging of the Spiker Family Tree which she donated to the auction.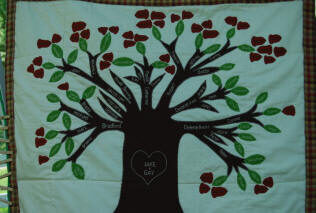 Jake and Gay's names were printed on the trunk.  Their children's names were stitched onto the main branches, the grandchildren on the limbs, the great-grandchildren on the leaves and the great-great-grandchildren on acorns.  Each of Jake and Gay's descendants, including those lovingly brought into our family, were equally represented on the tree.  The problem (although not truly a problem at all) was that the tree continued to "grow" acorns during this last year and Haley had to continuously re-design her layout.  But the final outcome was a beautiful labor of love.  (Click here to view photos.)             
The soon-to-be family heirloom generated the highest winning bid from any auction at a whopping $550,  and will hang on the wall at the Spiker Farm for all to enjoy.  A grand total of $1400 was raised during the charity auction benefitting the South Fork Baptist Church Cemetery Fund.   
After the auction, many of the children gathered at one of the "fishing holes" for a tournament.  Winners of the fishing contest were:  Slate Swiger for Smallest Fish, a 4.5" bluegill; Phoebe Hurst for Largest Fish, a 9.5" bluegill; and Christian Hicks for MVP with the most fish caught, a 5" bluegill, two 20" blue catfish, a 11.5" largemouth bass, a 9.5 largemouth bass, a 6.5" bluegill, a 9.25" bass, and a 9" sunfish!
Although I have not yet received a total figure of the number of guests at this year's reunion, it is believed to be one of the largest gatherings in many years.  One face we haven't seen in a while is Alice Larew Matheney.  When asked for comments about the event, she replied, "Jim, Paige and I drove from Kansas City, swinging down to Monroe County to pick up (my parents) Coon and Delene 'Boots' Larew to make it to the Spiker Reunion.  It was well worth the trip to see aunts and cousins that I have not seen for 14 years.  It was a little overwhelming to figure out who belonged to who with the growth of the latest generation.  It was a wonderful day of eating, visiting and an exciting ATV ride with Mike." 
Jean Spiker also told us about her grandson's experience.  "This was the first family reunion Thomas has been to.  He had so much fun playing in the creek with all the kids – including Chris Chambers and John Bob Spiker.  He had so many kids to play with!  He loved sitting on the edge of the road over the culvert watching the snakes.  When he left, he cried because he wanted to stay and play with his newfound friends.  He can't wait to go back again!" 
We feel the same way as Thomas.  We're already planning for next year.
Announcements
Submitted by Bobbi Spiker-Conley – Visit McCullough-Rogers & Raiguel Funeral Home to view the Obituary and Guestbook for Alice Spiker.  (Click on Obituaries then All Services or Search Services to locate her name.  You will be able to view & sign the guestbook.)

Submitted by Bobbi Spiker-Conley – The following are links to a couple reunion photo albums displayed on Facebook.  (If anyone provides additional photos, we will add them below at a later date.) 

Many of you may have seen Haley scanning photos on the front porch.  The old pictures were part of Aunt Jean's collection.  Haley has uploaded them to Facebook but is unable to provide a direct link from here to the album.  Only members of the Spiker Family Group on Facebook may view them.  Perhaps now is a good time for the rest of our family to join the social networking site.  Hint.  Hint.