May 2016
Spiker Family Reunion 2016 - Schedule of Events
A special memorial gathering will be held at the farm house on Saturday to remember Paul Miller.
SATURDAY - May 28
Farm opens for business if anyone wants to ride ATVs or horses, hike, fish or just sit and talk.  We will have a cookout and campfire that evening. Menu based on what everyone brings. Camp sites and electric hookups for campers are available.
This year at 1:00 PM, there will be a special memorial gathering at the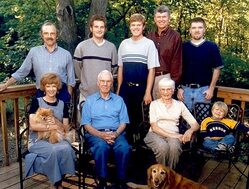 farm house to honor Paul Miller. We don't have all the details but Paula said we may "expect it to be informal…with memories and a DVD. It will be more focused on him personally and not his professional accomplishments. He loved his Spiker family and WV, and we are returning him home."
The gathering will be followed by a short graveside service for Paul and Francena Miller at the South Fork Baptist Church.
Paula's sons, grandchildren and others are planning to attend. It will be the first time they will all be together at the farm at the same time.
SUNDAY - May 29
Events will follow the same schedule as last year. Preparing the chicken & grills will begin around 9:30 AM. (We DO need volunteers to help with this activity.) Bring a covered dish and drinks to accompany the chicken.
The annual Spiker Family Photo will be taken immediately BEFORE lunch. Please be on time.
Throughout the day we will hold the Raffle (donated items such as logo t-shirts, hats, coupons, etc. are appreciated,) the Auction (please bring an item that you've made or something that has been handed down, etc. - proceeds will go to the South Fork Cemetery Association,) the Fishing Tournament (prizes for biggest, smallest & most,) the Corn Hole Contest & assorted yard games for children & adults. You are welcome to 4-wheel or horse trail ride, swim in the pond or river (weather permitting,) fish, hunt, or just sit around and visit (bring your own lawn chairs.)
We hope to see you all there.
---
Announcements
Submitted by Mike Spiker – I'm trying to entice you to come back to the hills. This video is from February but it gives you an idea of what's ahead. Bring your ATVs to the reunion. Let's have some fun.