March 2016
Spiker Sports
We can't get enough of these videos of some of our youngest players.
We come from a long line of sports enthusiasts. Whether spectator or participant, we immerse ourselves in the sights, sounds and smells of football, baseball, basketball and more.
My brother played football in high school. I played volleyball in middle school. My nieces and nephews have played just about every sport from grade school to college level. But it's the youngest of players that totally amaze me with their skills and natural abilities in playing these games. I just had to share some videos of these kiddos in action. They'll make your jaw hit the floor.
First up is eldest in this series. Introducing Melanie's 9-year-old grandson, Cameron Hess.

Mother Angie said this about 6-year-old Blake -- He absolutely loves baseball and always tries his very best. He played a great game tonight and got a nice hit and run to home every inning he was at bat. He also made a lot of great defensive plays and got several nice outs when he was the first baseman. Our boys are keeping Rob and I busy at the baseball fields almost every night, but we love every moment of it.

Angie Benson had this to say about 6-year-old son Blake – Go Blake Benson #3! I love watching him play sports because he absolutely loves to play. It honestly doesn't matter to me whether his team gets the win or the loss, but that he treats his teammates with care and compassion, works together with his team, respects his coaches, and tries his best. I am so proud of Blake and his sweet and caring heart. He not only is a good little athlete, he is a great kid. Being his mom makes my heart so happy. Rob and I are very blessed. 

His mother Angie said – Bryce's first season playing baseball. My sweet boy, Bryce just turned 4 years old so, so he was old enough to play this season. Today was the first day of having the coach pitch and this was his first time at bat. He hit the very first pitch and it sailed all the way to the outfield to the back fence.
He said, "I love baseball, I've been waiting my whole life for this!" 
\
---
Announcements
Submitted by Grant and Alison Morris – The Morris family wishes you a blessed Easter weekend!!! "Arriving 10/3/16"  We are thrilled!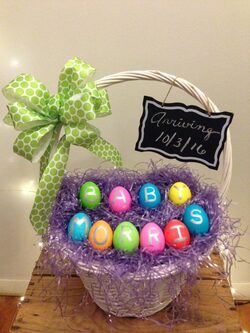 Submitted by Mike Spiker – REMINDER - HOLD THE DATES – May 28th & 29th 2016

On Saturday, May 28, 2016 at 1:00 PM there will be a special memorial gathering held for Paul Miller at the farm house.
The Annual Spiker Family Reunion will be held Sunday, May 29, 2016.