June 2012
The 6th Annual Bull Ride / Spiker Family Reunion
The 6th Annual Bull Ride moves to June
The Annual Bull Ride is moving to JUNE!  We will also double the excitement with TWO nights of bull riding.  Come out and enjoy the fun Friday and Saturday, June 15th and 16th! 
This is a family event.  People of all ages will have something to enjoy.  We have a mechanical bull, 21 foot slide, muttin bustin', and tons of fun with "The Man in the Can" Brett Carpenter!!  This is a non-alcoholic event and coolers are not permitted on the grounds. 
We hope you will all come out and join us.  Pease feel free to invite friends to visit us on Facebook or at our website, Spiker Farm, for updates that will be posted as we get closer to the event.
Our sponsors bring bull riding to Jane Lew!  Be sure to say "Thank You" whenever you visit them. 
CKS Pipeline
Metso Power
Blue Mountain United Rentals
Mountain Lakes CVB
WDTV Channel 5
The Nail Barn (located in Jane Lew)
Foster Feed
Southern States
Citizen's Bank
Dominion
Abraham Linc
State Farm
Announcements
Submitted by Bobbi Spiker-Conley – The Spiker Family Reunion will be held on Sunday, May 27.  We have not received any official word from the organizers but believe it will be based on a similar schedule as the last two years.  (Read more in our Archived section – May 2011 issue & the  May 2010 issue.) 

Alice Spiker passed away a few days before the event last year and Adelene Spiker passed away in March this year.  You may view Adelene's online obituary by clicking here.  Both beautiful women will be missed at this year's function but I'm certain their influence will be keenly felt.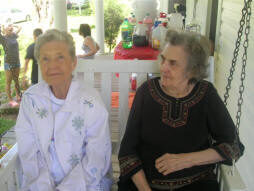 Adelene Spiker & Alice Spiker - at the Spiker Reunion
Submitted by Sarah Spiker-Smith – I am selling framed & matted photos of my photography of the Spiker farm.  Photos will be delivered at the Spiker Family Reunion in May.  Payment is not required until delivery. 

Please contact me to place your order or if I may answer any questions: through private message at Facebook, by email.  Get your orders in soon.  I can't wait to see everyone!!

Submitted by Jean Spiker – Jeff and I are grandparents again! This time we had a little girl, Hailey Jade (daughter of Zach Gifford), born April 2nd. We couldn't be more proud!

Submitted by Wayne Struzik – When you get a chance to brag about family…do it. This article will appear in the "Progressive Grocer" magazine in April. That's my boy!!"