March 2010
The Alphabet Name Game
Census reveals Burns Harlan's slightly unusual way of naming his children.
The Alphabet Name Game
By Bobbi Spiker Conley
This month the U.S. Postal Service is delivering questionnaires to every household throughout the United States and its territories in preparation for "Census Day," April 1, 2010.  Mandated by the Constitution of the United States and completed every ten years since the first Federal Population Census in 1790, the tallies from the census allow for regular and equitable reappointments of political representation throughout the expanding population.  But as every genealogist knows, the results are far more than a head count;  census records can be invaluable tools for making connections across generations.  It is through such records that we learned more about Burns Harlan's ancestors.
The son of Gay Spiker's sister, Kate, cousin Marion "Burns" Harlan is remembered as much for the fishing hooks attached to his hat as the camera seemingly glued to his hand.  Rarely seen without one or the other, many of the stories about this affable man centered on his hunting and fishing escapades while many of the family photos were from his personal albums.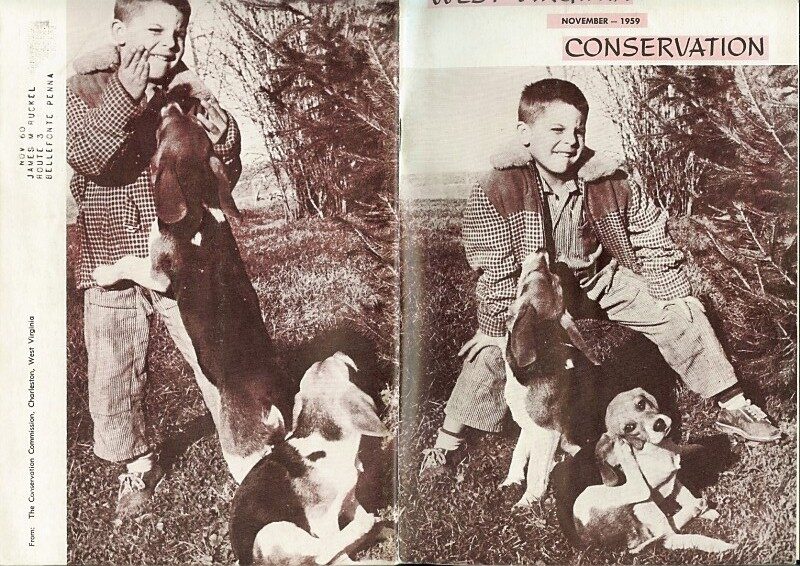 A 1940 graduate of Glenville High School (see yearbook photo below), Burns regularly submitted news articles and photographs to various newspapers and magazines.  Two of his photos, featuring a very young Mark Spiker, appeared on the front and back covers of the West Virginia Conservation Magazine (now known as the West Virginia Magazine) in November 1959 (scroll down to view image, as well as pics of Burns' parents, Tharos & Kate.)
Fortunately, Burns wasn't ALWAYS BEHIND the camera; occasionally he was in FRONT of it.  Paula Nolan has shared some pictures of Burns from her own collection.  (Click here to view Paula's album.)
And if you're a regular reader of the Spiker Family Gazette, you may remember two of Dean Spiker's stories, cataloged in the Spiker Family Library, that mention his generous and adventure-loving spirit.  (Read "A Little About Bob" and "Our Home on Bear Run.") 
Burns worked for the Times Recorder in the 1960s (Zanesville, Ohio) and later worked at the Marietta Times. He retired from the Parkersburg Sentinel (West Virginia.) It has been said that Burns was at one time a Constable in Wood County, WV (although we do not  yet have documented citations of that occupation.)  He married Evelyn White later in life and took care of his mother, Lucy Katriah "Kate" Zinn-Harlan, after the death of his father, Tharos, in 1938.

According to Dean Spiker, Burns' father had been known throughout the community only as "Doc Harlan."  Very few people knew his first name.  Even his own family called him "Doc" which filtered down to his nieces and nephews who knew him only as "Uncle Doc."
While living in the area, Doc Harlan "doctored" many of his relatives throughout their lives.  He was even the personal physician for his mother-in-law, Alice Zinn (Gay and Kate's mother.)  He signed her death certificate as "T. Harlan," the only other name by which he was known.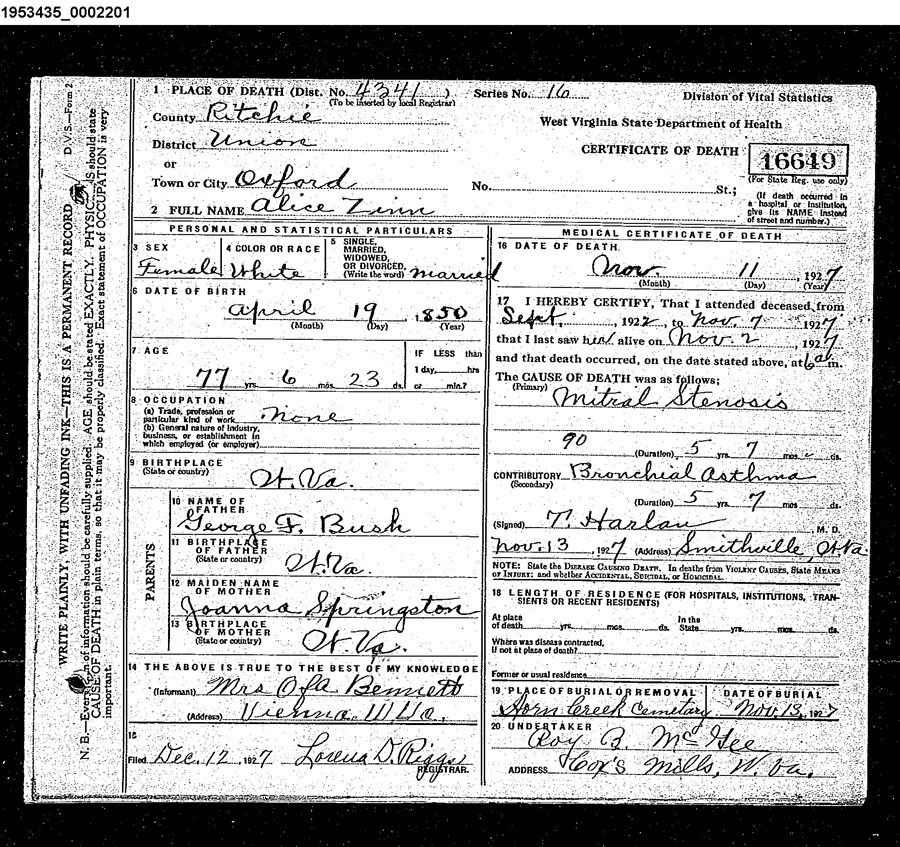 Certainly, "Tharos" is an unusual name.  Perhaps that is why it wasn't commonly uttered.  But it is no more unusual than the manner in which he and his 15 (at least) siblings' names were chosen.  This is where the Census information revealed an interesting piece of "forgotten" family history.
Tharos' father was Burns Harlan.  Burns married America Ingle in 1845.  According to the census, they had at least six children…Curtis, Dollar, Esther, Floret, Gordon, Hudson and Isabel.  (Gordon's name was not listed on the census but is suggested elsewhere in our genealogy research; we presume he died between censuses.) 
Read the list again and you'll see a pattern emerge.  It is believed that they named their children in alphabetical order, with America and Burns representing the letters "A" and "B" and their children representing letters "C" through "I".  America died in 1860. Burns continued the "alphabet name game" throughout his second marriage, to Margaret Anne Honner ("M"), and their nine children, Nelson, Odell, Ploris, Quiroz, Rolvik, Saxper, Tharus (Marion Burns' father), Ustfra and Willis.  (We are still looking for the "V".)
No one can recall cousin Burns speaking of his father's siblings, let alone discussing the alphabetical theme.  It was only through researching the census records that it was discovered. 
Fortunately, being able to access prior census records has permitted us to fill in many of the missing pieces in  our family history.  And, depending on the questions asked (no two censuses are alike), we've been given a snapshot of the nation at ten year intervals, learning more about vocation, crime, taxes, mortality, education, transportation and other statistics collected through the censuses that affected our ancestors. 
Your responses to the 2010 census are confidential.  At least for 72 years.  Since 1952, in keeping with the Census Bureau's commitment to confidentiality, census data is not released to the public until after 72 years following the official census day.  As such, the most recent census data currently available is for 1930.  The 1940 US census will be released in April 2012 (and there will probably be a swarm of family historians racing for the first look). 
By the time our responses to the 2010 census are released to the public, what will our descendants learn about us?  Considering there are only ten questions it certainly won't be nearly as much as we've learned about our ancestors.  Perhaps we should consider playing a "name game" with our own kids…just to make it more interesting.
Or perhaps we can make it easier by recording our own history now so that others won't have to rely on a census to guess who we are.