May 2008
The Ritchie County Flood of 1950
Newspaper article remembering the "Flood of 1950."
The Ritchie County Flood of 1950
Submitted by: Mike Spiker
(Here is a) scan of an article in the Ritchie Gazette re the 1950 flood which flooded the farm house and killed several people in Berea and other places.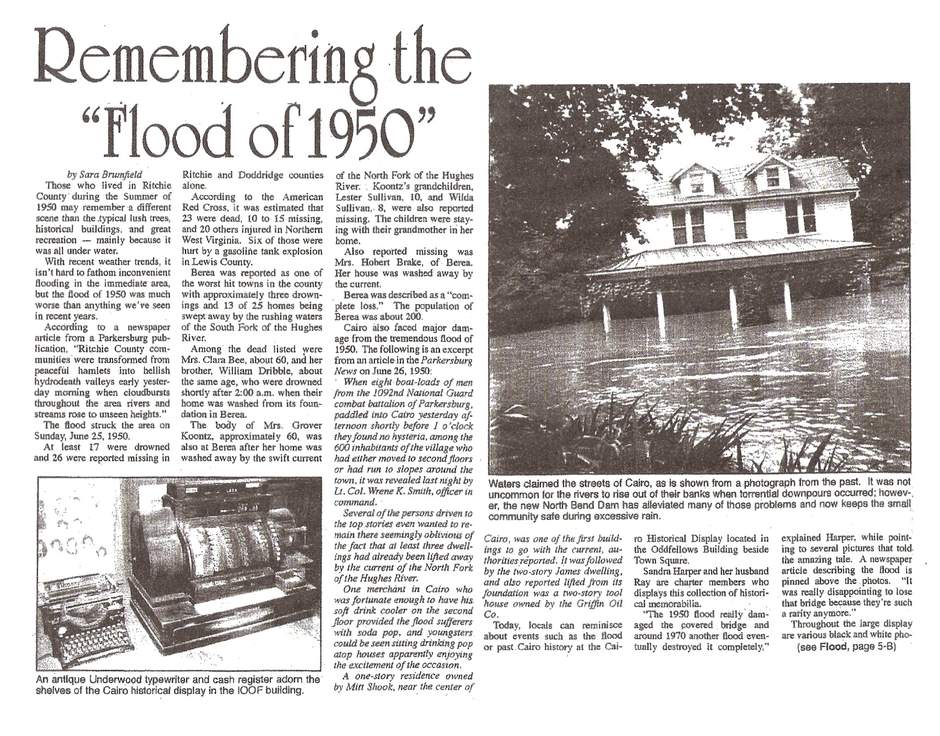 Your mom and dad (Robert and Willa Dean Spiker) helped rescue our grandparents from the second floor of the farm house. The photo in this article is not the farm house but is similar to what it would have looked like during the flood since the water was above the front door.
(Note from editor: Willa Dean Spiker has agreed to share her account of this fascinating story with us. Once her article is complete, we will feature it here in a future edition of The Spiker Gazette. In the meantime, we have transcribed below the article Mike scanned to us.)
---
Remembering the "Flood of 1950"
by Sara Brumfield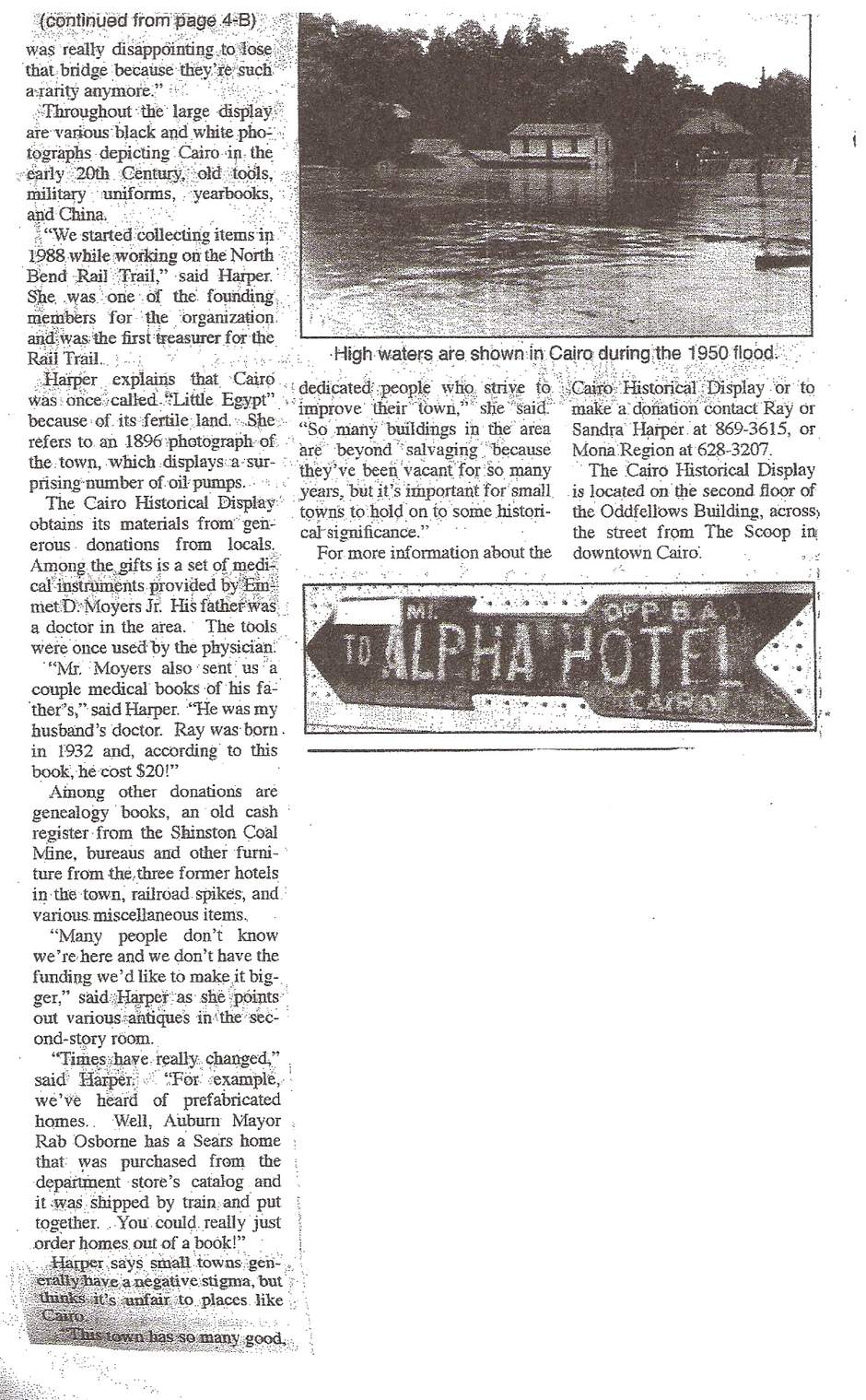 Those who lived in Ritchie County during the summer of 1950 may remember a different scene than the typical lush trees, historical buildings, and great recreation – mainly because it was all under water.
With recent weather trends, it isn't hard to fathom inconvenient flooding in the immediate area, but the flood of 1950 was much worse than anything we've seen in recent years.
According to a newspaper article from a Parkersburg publication, "Ritchie County communities were transformed from peaceful hamlets into hellish hydrodeath valleys early yesterday morning when cloudburst throughout the area rivers and streams rose to unseen heights."
The flood struck the area on Sunday, June 25, 1950.
At least 17 were drowned and 26 were reported missing in Ritchie and Doddridge counties alone. According to the American Red Cross, it was estimated that 23 were dead, 10 to 15 missing, and 20 others injured in Northern West Virginia. Six of those were hurt by a gasoline tank explosion in Lewis County.
Berea was reported as one of the worst hit towns in the county with approximately three drownings and 13 of 25 homes being swept away by the rushing waters of the South Fork of the Hughes River.
Among the dead listed were Mrs. Clara Bee, about 60, and her brother, William Dribble, about the same age, who were drowned shortly after 2:00 a.m. when their home was washed from its foundation in Berea. The body of Mrs. Grover Koontz, approximately 60, was also at Berea after her home was washed away by the swift current of the North Fork of the Hughes River. Koontz's grandchildren, Lester Sullivan, 10, and Wilds Sullivan, 8, were also reported missing. The children were staying with their grandmother in her home.
Also reported missing was Mrs. Hobert Brake, of Berea. Her house was washed away by the current.
Berea was described as a "complete loss." The population of Berea was about 200.
Cairo also faced major damage from the tremendous flood of 1950. The following is an excerpt from an article in the Parkersburg News on June 26, 1950:
When eight boat-loads of men from the 1092nd National Guard combat battalion of Parkersburg, paddled into Cairo yesterday afternoon shortly before 1 o'clock they found no hysteria, among the 600 inhabitants of the village who had either moved to second floors or had run to slopes around the town, it was revealed last night by Lt. Col. Wrene K. Smith, officer in command.
Several of the persons driven to the top stories even wanted to remain there seemingly oblivious of the fact that at least three dwellings had already been lifted away by the current of the North Fork of the Hughes River.
One merchant in Cairo who was fortunate enough to have his soft drink cooler on the second floor provided the flood suffers with soda pop, and youngsters could be seen sitting drinking pop atop houses apparently enjoying the excitement of the occasion.
A one-story residence owned by Mitt Schook, near the center of Cairo, was one of the first buildings to go with the current, authorities reported. It was followed by the two-story James dwelling, and also reported lifted from its foundation was a two-story tool house owned by the Griffin Oil Co.
Today, locals can reminisce about events such as the flood or past Cairo history at the Cairo Historical Display located in the Oddfellows Building beside Town Square.
Sandra Harper and her husband Ray are charter members who displays this collection of historical memorabilia.
"The 1950 flood really damaged the covered bridge and around 1970 another flood eventually destroyed it completely," explained Harper, while pointing to several pictures that told the amazing tale. A newspaper article describing the flood is pinned above the photos. "It was really disappointing to lose that bridge because they're such a rarity anymore."
Throughout the large display are various black and white photographs depicting Cairo in the early 20th Century, old tools, military uniforms, yearbooks, and China.
"We started collecting items in 1988 while working on the North Bend Rail Trail," said Harper. She was one of the founding members for the organization and was the first treasurer for the Rail Trail.
Harper explains that Cairo was once called "Little Egypt" because of its fertile land. She refers to an 1896 photograph of the town, which displays a surprising number of oil pumps.
The Cairo Historical Display obtains its materials from generous donations from locals. Among the gifts is a set of medical instruments provided by Emmet D. Moyers Jr. His father was a doctor in the area. The tools were once used by the physician.
"Mr. Moyers also sent us a couple medical books of his father's," said Harper. "He was my husband's doctor. Ray was born in 1932 and, according to this book, he cost $20!"
Among other donations are genealogy books, an old cash register from the Shinston Coal Mine, bureaus and other furniture from the three former hotels in the town, railroad spikes, and various miscellaneous items.
"Many people don't know we're here and we don't have the funding we'd like to make it bigger," said Harper as she points out various antiques in the second-story room.
"Times have really changed," said Harper. "For example, we've heard of prefabricated homes. Well, Auburn Mayor Rab Osborne has a Sears home that was purchased from the department store's catalog and it was shipped by train and put together. You could really just order homes out of a book!"
Harper says small towns generally have a negative stigma, but thinks it's unfair to places like Cairo.
"This town has so many good, dedicated people who strive to improve their town," she said. "So many buildings in the area are beyond salvaging because they've been vacant for so many years, but it's important for small towns to hold on to some historical significance."
For more information about the Cairo Historical Display or to make a donation contact Ray or Sandra Harper at 869-3615, or Mona Region at 628-3207.
The Cairo Historical Display is located on the second floor of the Oddfellows Building, across the street from The Scoop in downtown Cairo.
Announcements
Evan Thrush (son of Paula and Mike Nolan, grandson of Paul and Francena Miller) has accepted a new position with the John Hopkins Applied Physics Laboratory in Laurel, Maryland. Evan, his wife, Jen and their baby, Liam will move to Laurel this summer where he will start his new job on August 4. He has been working in San Jose, CA so they will be making a big move from the west to the east coast. His job will involve doing research, and many of the projects he will be working on will be with the Department of Defense of the federal government. They are excited to be closer to some of their family and to be in an area which offers a more affordable lifestyle.
Ryan Thrush (son of Paula and Mike Nolan, grandson of Paul and Francena) continues to enjoy his work as a law enforcement park ranger for the National Park Service. This is a picture of Ryan in his uniform at his park, the Black Canyon of the Gunnison National Park which is located in western Colorado. He recently completed further law enforcement training in southern Arizona where he did some work with the Border Patrol as part of the training. He has very interesting stories to tell about his time there. He and his team tracked a group of illegal aliens many miles through the desert until they eventually were found and returned to Mexico.

Submitted by Shelly Gregis: Just wanted to let you know about some of the achievements of my kids lately.

Clayton has been a star at basketball since he transferred to Doddridge. Being 6' 2" at 14-years-old helps, I'm sure, not to mention those size 17 men's shoes! Well while in basketball he was recruited for Shot Put. This year as a 7th grader he has set several hard to beat goals. On the track site for WV students, called RUNWV.com, he has been in first place in the state for Discus, throwing 125'. And in Shot Put, his last throw was 40' 5" making him second in the state. He had his last meet today, ready to surpass the school records which he is only 2 ft from, when tragedy happened. He has tendonitis in his rotator cuff and will need therapy. He managed to throw through the Discus competition before collapsing in tears of pain. Even with this injury he threw 109 ft in Discus, but has now dropped to third in the state. As for Shot Put, he was too injured to compete. So he is disappointed. Although I think that 3rd in the whole state for middle-schoolers is a great achievement. And he has another year to beat those records. The kids that have surpassed him are all 8th graders, I am told by his coaches. They are so proud of him and brag constantly. So am I.

Bub (aka, Little Robbie) competed at the regional Envirothon at Doddridge County Park, winning there to go on to the state competition. There his team, the FFA TEAM, came in 5th place out of 18 teams. The gold team for Doddridge won first place and will go to Arizonia. Bub is an alternate if someone cannot go and will have the chance to go to AZ.