March 2021
Untangling the Hidden Meanings
From the courting letters, we learn when the couple met and decipher the meaning of bringing in the wood, among others
I had originally thought I could simply scan and transcribe the Courting Letters to share with the family, but the task proved to be more complicated than that. Sure, deciphering the handwriting was a challenge. Misspelled words. Text too light to read. Missing pages. Holes in the paper. However, the real test of my sleuthing abilities was in untangling all the hidden meanings behind their words. ***
On September 8, 1905, Jake wrote: "Well Gay, do you know where you was at one week ago tonight? I don't think I will ever forget it. You know how bad someone hated to leave. Ha Ha."
I reread the previous letters looking for clues as to where they may have been.
On August 13, 1905, Jake had written: "I am going to stay home this week yet, but I am coming in to go to institute Wednesday and I am coming down to get you to go with me in the afternoon, and you must make arrangements to go too. I know that we will cut a swell, ha ha."
He signed off with: "Excuse all mistakes and blunders and think of me when it thunders. I.S.Y.A, Kiss. Yum Yum, ha ha."
Then there was silence until Jake wrote again on September 4, 1905: "I will try to talk to you this eve through pencile [sic] and papper [sic.] I expect you will think that I am in a hurry to write. To tell the truth, I am. For you know that you said that you would not write till you heard from me, and I'm getting a notion to hear from you…I have got your fan and I will keep it till I get to see you."
Gay replied the next day but said nothing that would confirm or reveal their whereabouts. She did, however, say that some friends would be coming to visit her soon and wrote, "I wish my little Spiker could be here."
Obviously, the couple did get together at the Zinn home.
On September 17, 1905, Gay wrote: "Dearest friend, this lonely eve I will endeavor to answer your much appreciated letter which I received a few days ago. Manley (Gay's brother) and I just arrived home from Grove. Besides Manley, I didn't see anyone I thought one third as much as I did myself. I got a new beau up there. Now what do you think of that?
"…I am going to look for you Saturday. I trust that you won't disappoint me. I am sitting on a cushion on the steps, and I am barefooted. I suspect Mother will come out here and whip me. It is getting dark and I will halfto [sic] go in the house and light a lamp soon. I would like for you to be out here now. We would occupy the spooning chair for a while. Yes, I suspect I have forgot how to hold hands as I haven't had any practice lately."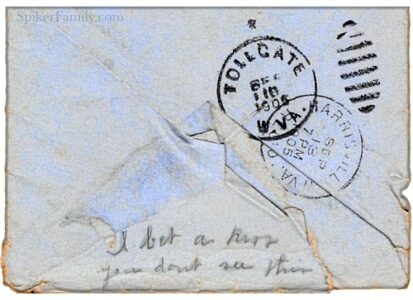 She signed off with: "Friends of heart will never part. Friends of a day will soon pass away. Then let us be friends of heart."
And inside the envelope, beneath the flap (pictured left) she wrote: "I bet a kiss you don't see this."
Considering Jake almost always tore open the letters from the side, I wondered if Jake ever did see that kiss. Well…
On the inside of his next letter, September 29, 1905, (pictured right) he wrote, "Here is where you get a kiss*." 
It would seem there was a lot of kissin' and hand-holdin' going on in that spooning chair, for it was mentioned numerous times in their letters.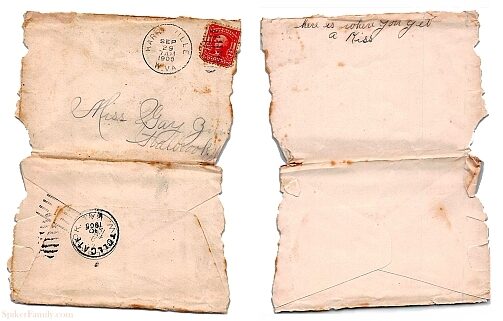 October 22, 1905, Jake wrote: "I wish that I was over at your house this evening. I think we could occupy the spoon holder for a while, don't you? This is just the right kind of evening for spooning."
December 1, 1905, Gay wrote: "I hope you will come back and not stay out there, for if you do, and I don't get to see you anymore this winter, I will hafto [sic] get someone else to spoon."
December 14, 1905, Jake wrote: "I am very sorrow [sic] to hear that you are thinking of getting someone else to spoon with. I expect that I will stay here all winter. I don't know what I will do without my little Gay girl."
December 18, 1905, Gay wrote: "I spent one of the lonesomest [sic] days Sunday. We stayed at home all day and nobody came. Indeed, I am really sorrow [sic] that you are going to stay out there all winter. But you needn't be uneasy about me. I am tired of spooning and will rest up till I see you."
December 21, 1905, Jake wrote: "My dearest little, short, blue-eyed girl. This evening I will try to answer your kind and ever welcome letter which I received this evening. You can't even guess half how glad I was to hear from my little Gay girl. You just bet I wish that I could come out there Xmas night. If I could come, wouldn't we have a time, or at least I think we would. You know that we always have a time of our own.
Gay, you said that you was tired of spooning. I am not getting tired of spooning for I have not got anything to spoon. If I was out there, you would have to get rested and commence again, ha ha. Well, Gay, if them boys out there don't let my little berry alone, there will be trouble."
Then on January 18, 1906, Jake wrote: "Dear little shorty. This beautiful afternoon finds me in my room and thinking of my little blue-eyed girl in Ritchie and wondering if she is thinking of me…I am surely glad to hear that you are having a good time. I have been having lots of fun, but one thing I don't like, that is I have no one to spoon with, and you know that don't suite [sic] me well."
And on January 28, 1906, Jake wrote: "To my dearest, sweet girl. Well, my little Gay girl, hain't this a pretty day? You asked me when that I was coming home. I don't hardly know. Maby [sic] that I will come home in four weeks from today. You said that you would to see me. Gay, you don't want to see me half as bad as I want to see you. [A friend] and I was together yesterday and we was just wishing that we had our own sweet girls up here and having the time that we had that Saturday that we went to Ellenboro. As I set here and think of all the good times that we have had together, it makes me feel very homesick to see you.
And to think that I don't hear from you often, or to think you wrote last Sunday and I never received your letter till yesterday. But I don't blame my girl for it. I don't think that she would do anything that she thought would cause me trouble. But I do blame Post Masters and mail carriers.
Gay, you must have the spoon holder made solid when I come over to see you, for I have not had a girl for so long, I don't know whether I will know how to set or not. But I hope your Momma won't carry any wood when I am not expecting it, for I might get a spanking, ha ha. And you know that I would not like that.
I wish I was at your house and talking to you instead of writing, for I would like to receive one of those sweet hugs and kisses that none can give but you. Well, Gay, don't get offended at this thin and foolish letter. It is so thin, I don't know if it will sour or not, but I have not seen you for so long that my harte [sic] is just plenty full of sweetness for you. And you must not think hard of me for writing some of it to you….Your ever faithful lover, if you will allow me to call myself that. Take all mistakes for kisses, and there is lots in there. Good bye J.S.  Your eyes is bright, your features fine. Oh God bless you. How I wish you were mine. XXXX"
Okay. So I'm seeing a pattern with the spooning chair but what does Jake mean when he said he hoped Gay's mother "won't carry any wood" ???
Well, back on October 31, 1905, Jake asks Gay, "Oyes [sic] what did your mother say about what happened when she went to get that load of wood? I hope she did not scold, for if she did, she may havt to [sic] do the same thing over again."
November 5, 1905, Gay replied: "Mother didn't say anything to me about what she seen. But the worst of it is she told the boarders. Mr. Morris was telling a story about the old man, seeing him trotting his girl (referring to Jake and Gay,) and Ma told what she saw. I tried to change the subject but failed."
Sounds like Gay's mother had gone outside to bring in some wood for the fire when she happened across Jake and Gay…hugging? kissing? both? Of course, the rest of the family (and the boarders) would tease the couple mercilessly. It became another "inside joke" that they repeated often.
On March 25, 1906, Jake wrote: "I wish that I could be there tonight. What a time we would have. But we would carry our own wood, ha ha."
Mar 28, 1906, Gay wrote: "Ma wants me to tell [you] about how many lambs we have got. And she said for you to come out and she would carry wood for us, ha ha."
April 27, 1906, Jake wrote: "This day finds me thinking of you and wondering why you have not written to me. I wrote you on the 11th day of April and have never heard a word from you. If you are mad at me, write and tell me, but I cannot think you are mad. Maybe write as soon as you get this foolish letter so I can get your letter before I go home. If it will be all right, I will call you up on the phone when I get to Harrisville and let you know that I am coming.
If you will let me come. I know that we will have a time. We won't have to carry wood, ha ha. But if you don't want to see me, just write and tell me and I will have to do the best that I can without seeing you. What is the use of me writing foolishness? You are not mad, are you Gay? You just did not want to write. Well, you must answer this letter so I will know where to come see you, or not. You never got my letter, or you wrote and I never got yours. I am coming home next Friday, one week from today, and I would like to come and see you. You don't know how bad that I do want to see my little girl."
The previous November, Gay had reported that, "Our Post Office is gone again, and we don't know what they will do next. But I trust we will get our mail some way." Apparently, this most recent delay was but one of many troubles with the mail service. So, no. Understandably, she wasn't mad at Jake.
Gay responded cheekily, "You might of known I wasn't mad at you. If I was, I would of let you know."
It was in that November 10, 1905 letter that Gay made things official. "I got a beau last night and his name is Jake. Now what do you think of that, ha ha? Bert and Coe teased me about it."
But it wasn't until the following summer that they wrote about meeting for the first time.
July 29, 1906, Jake wrote: "My one, truest and dearest sweet little girl. This Sabbath evening finds me thinking of you, as all other evenings and days do, for I never ciece [sic] to think of my own true love. There is more loving in my harte [sic] for you that no one can ever fill. I only wish that I was with you today instead of where I am. I am sure that I would be much better pleased…
"I am sitting on the front porch writing. There is a ball game at the park today, rainy as it is. I can hear them hallowing [sic] and the street cars is just as loud. One passes about every 10 minutes. A great many more people goes to ball games on Sunday than they do to church.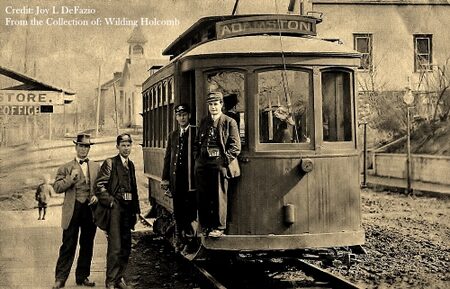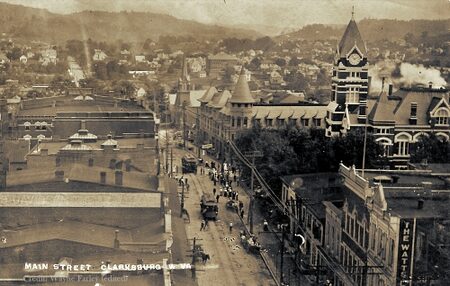 Streetcars in Clarksburg, West Virginia, circa 1907 (r)
My dear, do you think you will go to the Fair at Pennsboro? If you will go, I will meet you there any day that you may say. Please say that you will go one day. I don't care so much for the Fair as I do want to see you. If you can't come to the Fair, I expect I will have to come down to Tollgate some Saturday over on the U.S. Mail hack just purposely to see my own little Gay girl. It has only been a little over three weeks since I saw you, and it seems more like three years. 
Gay, they say a fellow in love writes and says some very foolish things. If that be the case, you know that I am getting pretty far along. But I have only written my thoughts [so] that you know that I love you and that accounts for it all. Some people say when a fellow professes his love to a girl, he is just at the point of loosing [sic] her. It is not so in our case, is it my dear?
Gay, I have written to you as I never did to anyone else. The reason that I write to you as I do is because I think more of you than anyone else and I flatter myself with the thought that you think the same of me. Am I right nor not?"
August 2, 1906, Gay replied: "My own dear boy. I received your letter last evening and read it with pleasure…Oh, I can't go to the Fair this year for there is going to be an Association at Oxford the 14-15 and, of course, I will hafto [sic] cook, and cook for the people. I wanted to go so much, and more so now that I know you could be there. I would just love to see you. It will be a month in a day or two since you was here. Seems ages to me."
August 7, 1906, Jake wrote: "This rainy evening finds me writing to my only love. The [Clarksburg] Fair is going on here now but I don't guess I will go any. And [you said] you will not get to go to the [Pennsboro] Fair. Well, I will not go eather [sic.]  This Fair, two years ago, is where we first met. It don't seem that long to me. Does it to you? I will never forget that day nor the compliment that you passed on me that day."
| | | |
| --- | --- | --- |
| |   | |
| Harrison County Fair at Clarksburg, WV, circa 1911 |   | Ritchie County Fair at Pennsboro, WV, circa 1890-1900 |
So now we know our grandparents first met at the Fair in the summer of 1904, yet the question remains…WHICH one? The Clarksburg Fair in Harrison County or the Pennsboro Fair in Ritchie County? The answer isn't clear. What I want to know is, what compliment did Gay pass on to Jake that day???!!