June 2010
Family Gathers at the Spiker Family Farm - The 2010 Reunion
Highlights of the 2010 Spiker Family Reunion. Melanie Fouse distributes bookmarks she designed by incorporating pictures taken at the Spiker farm. Introduction to Guy Zinn's professional baseball cards.
It was a beautiful Memorial Day weekend for the reunion this year.  Although several of our family were missing due to illness, travel or other commitments, we had a great turnout.  As always, the food was wonderful with John Spiker's chicken taking center stage. We want to give a big hand to all those who helped John "do" the chicken this year.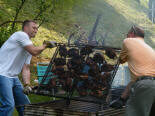 That's a big responsibility for John and takes up most of the morning hours to set up the grill and clean enough chickens for 100 people before the cooking can begin. So a special "Thank You" to all of you from all of us who sat down and enjoyed the results.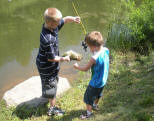 The afternoon fishing contest was a success! Our winner this year for the Most Fish Caught was Kate Smith, granddaughter of Mark Spiker. The winner of the Smallest Fish Caught went to Derek Gifford, grandson of Jeff Spiker.
The Biggest Fish Caught prize went to TWO winners, Slate Swiger, grandson of John Spiker and John Hicks, grandson of Melinda Chambers. Well done, Fishermen!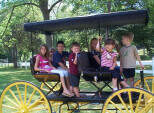 One highlight this year was the addition of the Spiker Buggy. Found stored in the barn, Mark and Mike hauled it out and had it restored by an Amish family. It was returned to the Spiker Farm in beautiful condition just in time for Mark's daughter, Katie to be carried to her wedding in the style of her great-grandparents, Jake and Gay Spiker.
The buggy is a truly wonderful piece of our family history and a magnet for the fifth generation of Spikers at the reunion.
The auction is always something looked forward to at the reunion. People donate items that will be sold to the highest bidder, and the money generated from the sale goes to the upkeep of the South Fork Baptist Cemetery where many of our ancestors are buried and where one day many of us will join them. A special emphasis is put on the donation of items handmade by family or of items that pertain to our family history.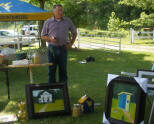 Paula Nolan donated a quilt, handmade by Gay Spiker, that was once on the bed of Aunt Jean. Sue Spiker "won" this item and will probably be adding it to others at her Sunny Pointe Guest House. Cathy Gregis donated a framed painting of the Spiker farmhouse.
           Miscellaneous food items, canned by family members were donated, as well as two Christmas Cactus plants that were grown from "starts" of Gay Spiker's cactus. One painting was done by Dean Spiker of the WVU Outhouse located at the family farm and was bought by Mark Spiker as a gift – from one WVU fan to another – to his new son-in-law, Christian Shaffer.
     Thinking up novel family-oriented items that you can donate for the auction becomes quite a chore after a few years. So many wonderful ideas have already been conceived by everyone that coming up with something new is a challenge. Personally, my first thought and attempt was the bookmarks that I made and handed out this year. I designed them to reflect the family's love of the farm and our ancestors, incorporating pictures from the farm taken by myself and Sarah Spiker Smith.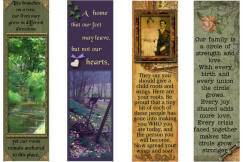 bookmarks - front view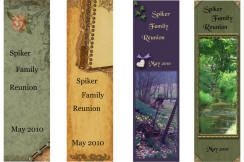 bookmarks - rear view
But that wasn't something I could auction off. It wouldn't bring much money unless I only made ONE and there was a bidding "war" to get it. If I made MORE than one, the "war" would be reduced to a "skirmish" and again it wouldn't bring much money for the cemetery.  I decided just to hand out the bookmarks to the ladies of each family and work toward finding something else I could donate. Then I remembered the baseball card!
Several years ago while looking for death certificates in my genealogy research, I found one for Gay's first cousin, Guy Zinn. It listed his employment as "professional ball player for the New York Yankees." THAT got my attention.  Excited and intrigued by this discovery, I searched the internet for more information and was lucky enough to find Guy's baseball card on Ebay.
My research revealed that Guy Zinn, first cousin to our Gay Zinn Spiker, was recruited by New York in 1911 for $1000. He made all the newspapers. They talked about how he was so good, he was the sole reason they won some of the games.  In 1912, he was the very first player up at bat in the brand new Fenway Park in Boston.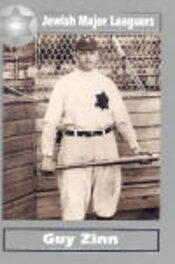 The only reason this first game at Fenway Park didn't make front page news was because the Titanic sank five days before the game. In 1914, in a pre-season practice game, he broke his leg just above the ankle sliding into 3rd base and was out for the rest of the season. The next season everyone was thinking he was going to take the team to a whole new level but he favored that leg too much. Eventually that injury would end his Major League career, although he moved on to the Minor League.
In his baseball career Guy played for the New York Highlanders (which later became the New York Yankees), the Boston Braves and the Baltimore Terrapins. Guy was only on one card in a set put out by the Baltimore News, the rarest set ever!
So when I couldn't come up with a good idea for the auction, I went looking for another baseball card.  I once again went searching on Ebay for a card like mine that I could donate.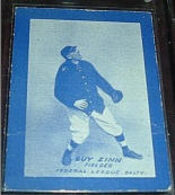 Imagine my surprise when I found Guy's 1st, original "rookie" card on Ebay! The selling price for his card was a quarter of a million dollars……and no, I didn't get this one. I did print out a copy of the Ebay auction to prove just how much they were asking for it.
It also shows a picture of the front and back of the original card. The reason it's so expensive is because there is only ONE of this Guy Zinn card in the world.
But there are other Guy Zinn baseball cards in circulation.  The American Jewish Historical Society put out a set of Jewish Major Leaguers in 2003. Guy Zinn was included in this set and that's the card I own. The set was re-issued in 2009 to include newer Jewish players.  This 2009 set has the card that I found on Ebay and was able to donate to the family auction, along with copies of a few relative newspaper articles. 
Yes, it's not old and no, it's not worth a quarter of a million dollars but it IS a piece of our family history and you'd have to chew a lot of gum to find just the one card you were looking for so I guess I did OK. And to our family, this little bit of history is priceless.
Well, better start now if I want to find something else to donate next reunion. Have you got any ideas for your own submission?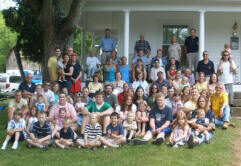 Announcements
Submitted by Bobbi Spiker-Conley – As mentioned in Melanie's article above, she handed out several bookmarks at the reunion this year. If you didn't receive one of her beautiful bookmarks (or if you want more than one,) click here for instructions on how to make your own.

Submitted by Bobbi Spiker-Conley – Learn more about Guy Zinn by clicking here.  We've included additional information about Guy such as his baseball stats, links to photos and some interesting facts about his career.

Submitted by Bobbi Spiker-Conley – View photos from the 2010 reunion by clicking on any of the links below.