October 2015
Introducing Catherine Gay Spiker Miller
Paula Kay Miller Nolan introduces us to her mother, Catherine Gay Spiker Miller
Let us Make the Introductions
We are naturally curious about out ancestors – who they were, what they were like, what motivated them. When we started this website, we had only the "big picture" of how they lived and their place in history. We had little to no information on the "everyday" details of their lives. So we researched, and we interviewed, and we shared resources. As we compiled photos and narratives, a timeline began to emerge and the stories came alive. Our ancestors were more than just names and dates on an imaginary tree. They were "real". 
Below is the first in a series of introductions to our ancestors. We're hoping each of Jacob and Gay's descendants will follow Paula's lead in sharing stories, photos and memories with us. Please contact Bobbi Spiker-Conley for details.
---
Introducing: Catherine Gay Spiker Miller
By Paula Kay Miller Nolan
Many of you in the family did not have the opportunity to know my mother, who was called Kitty by almost everyone who knew her.  Others will remember her but the memories are probably dim, as many of mine are.   She left this world at the early age of 45.  Too early, but she had a full and interesting life and was very loving to her family and friends.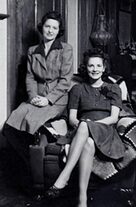 I have always missed her and was always grateful to Aunt Jean as I felt that many parts of my mom continued to live through her.   Both were beautiful redheads, although of a different hue.   They were kind, graceful, helped others and were always ready to laugh and smile and tell a good story. 
Of course, my mom grew up on the Spiker farm, which we all love and which continues to be a center of all of our lives.   From various accounts, she may not have been the best farm girl as she was always quite "girly".    She certainly had a fear of bugs and snakes which was passed onto me, and the family stories abound on that subject.
Kitty attended Mountain State Business College in Parkersburg.  She lived in Harrisville with Aunt Jean and met my father, Paul Miller there.  She worked as a secretary in the University Extension office while my father was the assistant county agent for Ritchie County.
She suffered a major trauma when she delivered twin girls prematurely at the farm.  My sisters, Kay and Gay are buried at South Fork Cemetery as are my mother, my brother, Tom, and soon my father.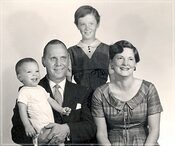 After WWll, dad went to Michigan State University to further his education.  Kitty readily went there with him and with me as an infant.  It was hard for her to leave her family in Ritchie County, and she always carried that missing with her.  They spent 16 years of their lives in East Lansing until their return to Morgantown and West Virginia.  By this time, my brother, Tom had been born and was a young boy.
Kitty had a shy temperament, and being the wife of the President of WVU was not always an easy role for her.  There were many public events and it was difficult to establish intimate friendships while in that role.  The travel demands on dad were extensive, and she was often alone to manage the family and home while he was away.
Kitty could be fiery at times, and we occasionally needed to watch our steps when she started to lose that redhead temper.   She loved to dress well, and some of my favorite memories revolve around shopping excursions with the two of us.  She was a good cook, and I remember her Beef Stroganoff as being the best.  She and dad enjoyed square dancing in their spare time.
Mom very much looked forward to our annual trips from Michigan to the farm.  I can still feel her excitement and remember the look in her eyes when we crossed the bridge over Bear Run.  She instilled those feelings in my dad, Tom and me, and we always tried to return to our WV home and family as much as possible. 
---
For more information & to view our entire album of photographs, please click here to view Kitty's branch on our family tree.
---
Announcements
Submitted by Brock & Missy Stotts – Brock's new fishing buddy, Beckett Terry Stotts, joined the Spiker family at 1:30 AM on September 22, 2015. He weighed just under 7 pounds and was 19-1/2 inches long. (Terry was Missy's father's name)