February 2009
Questions are the Wrapping Paper; Answers are the Gift
Exploring the connections of Bradford Spiker's manuscript, "The Good-Will Community," with Barr Wilson, John M. DeBrular, Port DeBrular, Geneva Haught, Gay Spiker, Orville & Gerry Bonnell, Mary Grace Maxwell, Ed Haught, and Sue Ann Maxwell Spiker
Questions are the Wrapping Paper; Answers are the Gift
Written by: Bobbi Spiker-Conley
To the dismay of my family, I was always a "chatty" child. I could talk for hours about anything and everything. My father responded to my ramblings by saying, "You rattle and rattle and don't say nothin'." However, when I asked QUESTIONS…"Why did the mother bird just kick the baby out of the nest?", "Why is it called 'greasy grass'?" or "What is the name of this flower?"…he patiently responded to each inquiry, telling me that no question was ever so small that the answer couldn't generate a better understanding of the world and our relationships in it. Questions are like wrapping paper, he said. You have to tug at the surface to get to the answers hidden beneath.
So it should be no surprise that the answer to one small question I recently asked has resulted in a greater awareness of some intriguing relationships within our grandparents' community. My question? "What, or who, sparked Pete Deremer's interest in our family tree?"
It all started when Briana's son, Pete, told me he wanted to create a family tree on his personal website. "To be honest," Pete replied to my question, "others did not spark (my interest) in it…I was curious to see what happens when you add information from every family member you know and put it into one spot.
"I was playing around just reading articles about (family tree) software…and was able to go to theAncestry site and get a lot of information there," Pete continued. "Melanie (Fouse – who manages the Spiker tree on Ancestry.com) is going to be giving me all the information she has…and I will be uploading it to the website.
"Our family is huge…why not create a general site where family – even extremely extended – can update and view their side? I think of it as 'the power of many' verses 'the power of one'. The long-term goal is simple. Get a 100% family tree."
Excited that Pete was discovering the fun of tracing our roots, I told him he was joining a long line of family members that have been bitten by the genealogy "bug." His great-grandfather, Jacob, had a sister-in-law (Laura), two siblings (Pearly and Gracie) and two children (Bradford & Geneva) that were all known to have recorded and shared important family history through Family Bibles, personal accounts and letters. My mother, Willa Dean, spent many hours recording data from area courthouses and later joined my sisters, Melanie and Cathy, in mapping and photographing the tombstones at family cemeteries.
But perhaps most interestingly to Pete was that his grandfather, Brad, had written "The Good-Will Community, A History of Holbrook, W.Va., 1814-1945," a document often cited as a valuable and reliable source by other genealogists. Pete said, "Grandpa's book about the Oxford community was a big surprise to me….I didn't know (he wrote) that."
Hoping to encourage Pete to explore his history a little further, I decided to do some sleuthing on my own. Perhaps I could find out more about the history of his grandfather's manuscript. When and why was it written? Was it transcribed exactly as written? Were the misspellings intentional to stay true to the original text? Who is in possession of the original document now?
And so my questions snowballed, and the surprising community connections these questions uncovered began to unfold…
The transcribed document (Click here to read entire manuscript) indicates it was "Written by Bradford Spiker, Compiled by Barr Wilson and Printed by John M. DeBrular March 21, 1997." The introduction reads, "The following local history was found by the late Charles Porter DeBrular and his son Robert, in a old abandoned house near Holbrook. It was written by Bradford Spiker, when he taught the local school and resided in this house. As far as is known he never made copies of this history. When he left this area he left the History behind."
Armed with the name "John M. DeBrular", I scoured the Internet to find a way to contact the man that had printed the document. After several false leads, I finally found a current e-mail address. He responded to my numerous questions about the manuscript as follows:
"What I know of the article is shown in the article itself. My uncle who was one of the discoverers of this treasure is still living. Some criticized him for removing the writing from the home and I understand their feelings. I asked my uncle and he said that they felt that it was an old writing in an old house and their desire was to make sure that it got to a place where it would be preserved. Barr Wilson was probably the most well-known and respected historical person in the county, and a good friend of the family, and they thought that it would be safe with him. It was Barr that took it to the next level and I believe that Barr transcribed exactly as it was written. I believe that it was written sometime around 1937 - 1940 period and at that time there was a program that encouraged people to write about their communities and that this writing is a response to that. Now that is my opinion and I have nothing to back this up at all. Barr Wilson had possession of this writing and the Ritchie County Historical Society received all of his historical documents so it might be in their possession."
He went on to say, "The Spiker family lived at the entrance of Bear Run and my Great Grandfather and his family lived about 1/2 mile up Bear Run. Jean Haught and my father were very close and played together as children when they both lived there. The Spiker family and my family were always very close and maintained a wonderful relationship. It is only the variances of time and distances that separate us today."
Thinking my mother may recognize the DeBrular name, I called to tell her I'd been in contact with John Maxwell DeBrular. Did she know him? No. But she informed me that she and Daddy had purchased their first home from a man named "Port" DeBrular. Is there any relation? Yes. John confirmed to me that Charles Porter "Port" DeBrular was his grandfather.
John also mentioned that his father, John Kenneth "Scotty" DeBrular, was born in that home. He asked if I could provide any details or photos of the farm. A call back to Mother resulted in her narrating a fascinating tale about her and Daddy's life at the former DeBrular homestead. (Click here to read Dean's story.)
In the meantime, Mr. DeBrular forwarded to me a copy of his own family history. The contents revealed that he had once worked at Wright Wholesale Grocery for Orville and Gerry Bonnell. I promptly informed John that Orville is my mother's brother. And, according to my mother's story, John's former employer had helped my father run the electric wiring in their home on Bear Run.
Mr. DeBruler then revealed that his mother, Mary Grace Maxwell-Debrular was related to Aunt Jean's husband, Ed Haught. Of course, this also means that John and his mother are distantly related to Sue Ann Spiker.
I then shared a couple photos with Mr. DeBruler: one of Civil War Vet "John DeBrular" at the 1920 Zinn Family Reunion (see pic below), and one of my grandmother Gay Spiker wearing a necklace she received at age 16 from John's grandfather, Porter DeBrular.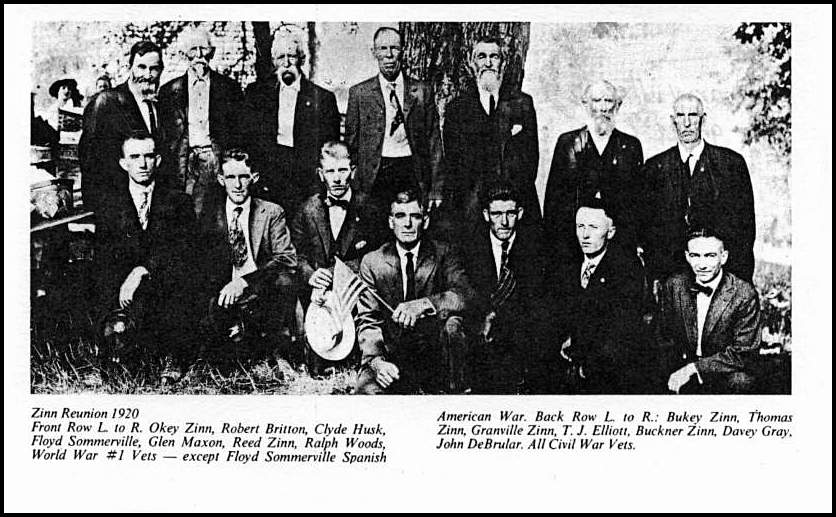 We had no idea there were so many connections between our families!
And now Pete Deremer wants to learn more about connections. Unlike Melanie's tree on Ancestry.com, which primarily focuses on her paternal (Spiker) and maternal (Bonnell) relatives, Pete wants to expand his personal tree beyond the immediate family to include every possible branch, every possible extension, every possible connection. Both trees are free to view; visitors to either site need only to register as guests for admittance. As you scroll through the names and documents and photos, their questions to you are, "Can you fill in this blank in our family history? Do you have a story to share?"
If you think you don't have anything to contribute, keep this in mind… there were several facts about my mother's first home that I hadn't known. When I asked her why she'd never shared these details before, she replied, "I guess it was because I didn't think anyone was interested." Well, I'm interested. And so is Pete. And so is John. And so are many generations that will come after us.
Had I not asked Pete the first question, "What, or who, sparked your interest in the family tree," I wouldn't have asked the many questions that followed. And I may never have heard the many answers that revealed such intriguing relationships between generations of the Spiker and the DeBrular families.
I haven't reached the end of my quest to learn more about Uncle Brad's manuscript. I'm continuing to ask questions that – just as my father said – may lead to a better understanding of (the Spiker family's) world and our relationships in it. Daddy's point was…we should all "chatter" more. We should show more interest. We should ask more questions. And we absolutely must write down the answers. It's our gift to each generation that preserves them by remembering them and passing them on.
Announcements
Submitted by Jean Spiker – Shaun and Rikki have learned that their third child will be another boy. He's due on May 18.
Submitted by Bobbi Conley – Our daughter, Haley, will be relocating to New York with her boyfriend, Pat, in early March. After nine years as a "southern girl", she is not looking forward to the climate change. On the other hand, everyone is hopeful that the ECONOMIC climate will change for the better up north.
Submitted by Bobbi Conley – John M. DeBrular is asking whether anyone would be interested in documenting some of the history of Holbrook, Bear Run, White Oak and other nearby locations. If so, please contact me aturlovingit@aol.com and we'll make arrangements to coordinate the effort.