March 2009
All in the Family Name
Our family's efforts to record some of the Spiker names in our history are sometimes hindered by conflicting sources.
Last month when introducing Pete Deremer's latest pet project – creating his personal family tree online – we mentioned that he was just one in a long line of family members to have been bitten by the genealogy "bug."  This month we want to share some examples of our family's efforts to record some of the Spiker names in our history.   
It wasn't always easy to gather the details.  Memories faded.  People died.  Courthouses burned down or were flooded.  A lot of what our family knew about their ancestors came from stories that were passed along.  And as we've discovered in charting our genealogy, what may have been long regarded as fact, may not have been corroborated by other "sources."   
"Sources" are like "audit trails" that verify, or prove, the data and events recorded in our tree.  The info may come from census records, military records, a tombstone rubbing, a newspaper clipping or a family bible.  Letters and interviews are also cited as "sources".  But as you can imagine, some are much more reliable and more accurate than others.  And interestingly, the info derived from some "sources" comes as a complete surprise to those who thought they knew all the facts. 
In 1925 Gay and Jacob Spiker named their newborn son "Robert Roe Spiker".  Years later, when securing a copy of his Birth Certificate for the U.S. Army Air Corps, Bob discovered that his "birth" name was not his "legal" name.  Glaringly missing from the official document was his middle name, "Roe." 
This is not the only time we've seen a discrepancy in a name.  In a letter written by Jake's "Sister Gracie," in which she records some important family dates, we noted she spelled their brother's name "Pearley" (with an "ey").  The same spelling appears in his WWI Registration card.  However, his WWII Registration card does not contain the additional "e" and, interestingly, Pearly signed his name to the cards using both spellings.  (Scroll down to view both cards.) 
We don't have a copy of Pearly's Birth Certificate but Melanie Fouse tells us that "The Birth Book of Records (not a certificate but a book with a long line of people born that month) states…his name is legally 'Pearl Ray.'  There is no 'y' although there is a tiny mark between the 'l' and the 'r" in 'Ray' so it could be that they tried to correct it."
And although Robert and Pearly may have disputed what they believed to be their "real names," others in our family may have wished their own "real names" could have been so easily altered (or even forgotten.) 
We are told that Pearly's sister (Gracie Gurdle) and daughter (Yetive) apparently received a lot of ribbing over the years for their names.  Yetive shared this amusing story in a letter she wrote to Bob and Dean Spiker several years ago (view the letter here.)
Her letter, Pearly's registration cards and Robert's birth certificate are all valuable "sources" we use to document the names of our kinfolk.  But when the "primary source" differs from the "secondary source,"…I ask Mom. 
She may recall that Daddy's middle name, Roe, came from his grandfather, Isaac Monroe, whose middle name may have been taken from the county in which Isaac was born, Monroe County, Ohio.
Which brings us back to the lesson learned last month.  Mother won't always be around.  Her memory of the names, dates and events will fade over time.  So it's important for us to ask the questions.  And it's important for us to write down the answers. 
My question for today is for my sister, Cathy.  Her middle name, Roeanna, was taken from our father's (missing) middle name.  Are you certain the clerk didn't forget to add it to YOUR birth certificate???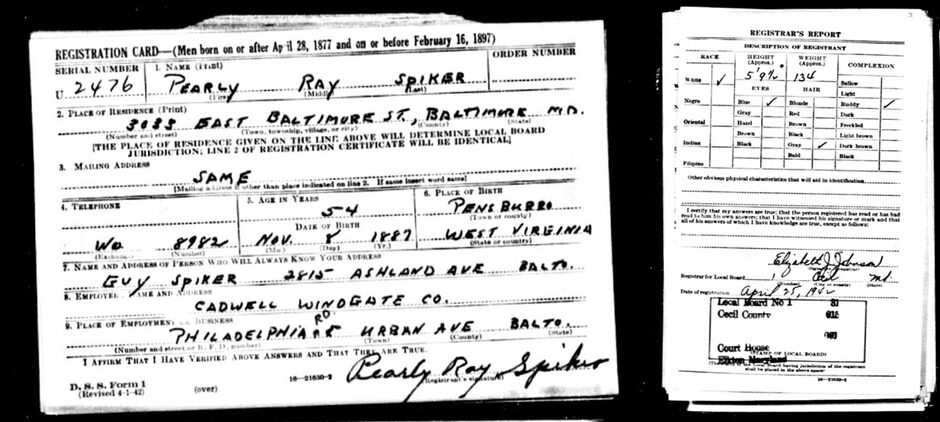 Announcements
Submitted by John Bob Spiker – We just got back from Raleigh, North Carolina where I was elected to fight the SEBRA (Southern Extreme Bullriding Association) Finals. Everything went great and I was also elected Bullfighter of the Year. There is a little info on GoSebra.com if you're interested. And also wanted to let you all know we are planning our 3rd annual Spiker Bullride for the last Saturday in July. Things are coming together very well and we plan on adding more money to the pot to get really good bullriders this year.

Submitted by Paula Nolan – Mike's son, Chris and Jenny had a little girl, Alexis, in Phoenix. Since we are very short on girls, we are particularly thrilled. Her big brother who is 11 is happy to finally have a sibling.

Submitted by Melanie Fouse – A new scrapbook page titled "Family Faces" featuring Geneva, Kitty & Paula has been uploaded to the Spiker Family Photo Album.  Click here to view entire album.

Submitted by Bobbi Spiker-Conley – A few of us are communicating on Facebook these days.  As a result, we were some of the first to hear about Paula's new grandchild and to view Melanie's latest scrapbook page.  We're sharing stories about our day, photos of our families and keeping in touch with our friends… instantly.  Look us up (membership is free.)