December 2015
Remembering Christmases Past
Bobbi Conley reflects on Christmases at Bob Spiker's home
Many Christmases of my youth were shared with our "Spiker side of the family." I don't know when or why it started, but it was tradition that everyone would meet at our house in Good Hope for Christmas dinner.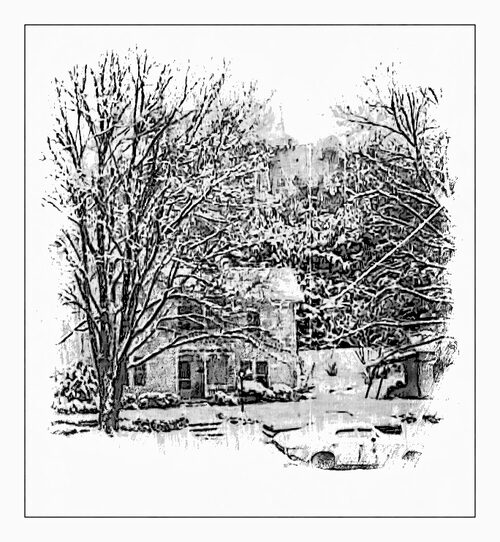 Mother started preparing the feast a week before, cooking hard candies in flavors of sweet fruits, spicy cinnamon and salty toffees. Cookies were next and, of course, she made enough lemon sugar cookies, peanut butter blossoms and chocolate chip oatmeal cookies, – along with the homemade candies – for our family, our Christmas feast, and for giving out to neighbors and friends. 
Then there were the homemade pies – chocolate, pumpkin, apple, cherry, peach, and sometimes rhubarb or mincemeat. The choice often depended on what fruits she had in her freezer from the seasons before. Speaking of fruits, let's not forget the homemade grape jelly and strawberry jam she had canned. Those would go on top of her homemade brown bread and rolls.
And I really do not think she slept a wink on Christmas Eve. From manning our evening family fondue fest, to reading holiday bedtime stories with her children (and later her grandchildren,) to setting out the last minute gifts once the littlest ones had fallen asleep, she just kept on moving.     
 Homemade noodles would be rolled, cut and left on the table overnight to dry. From the cellar she'd retrieve quarts of home canned green beans and horseradish pickles. From the freezer she'd grab containers of homemade apple sauce and sweet garden corn.  
Long before the first stirrings and delighted giggles of eager children reached her ears, a turkey had been roasting and a ham was being prepared. Serveware sets, bowls and platters dotted a bright red tablecloth, the only bare spot reserved for Daddy's breakfast of coffee and toast.
     Then as soon as the Christmas morning merriment began to calm (and Mother was convinced Daddy would help the children pick up the discarded wrapping paper and bows,) she'd head back to the kitchen. But this time, she was followed by her three daughters.
     There were potatoes to peel, gravy to stir, broccoli casserole to be layered, angel food cake to be torn, and gallons and gallons of sweet tea to be brewed. With Mother's guidance (and numerous taste-tests,) we somehow managed to help her pull everything together.
The meal was always delicious. And always too much. The adults retired to various rooms of the house "to digest" while the children headed outside to "run it off." (Some of the elders went on to "snooze it off.")
Those moments after the meal are what I remember most longingly – the communion and conversation shared with those closest to us as we celebrated the birth of our Savior. Those moments are what I'm thinking about today (see photos below.)  Do you remember?
Just for fun, can you identify the children in these Christmas photos?  Share your guesses in the Spiker Discussion Forum.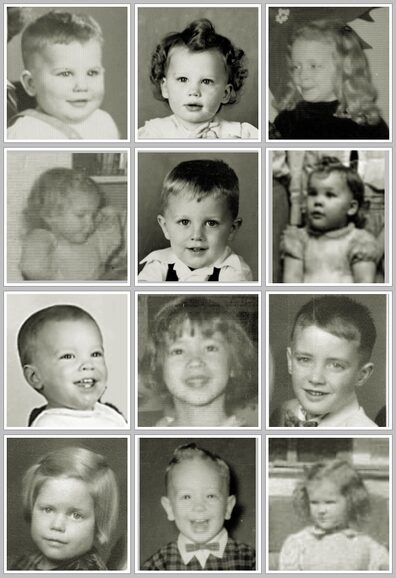 ---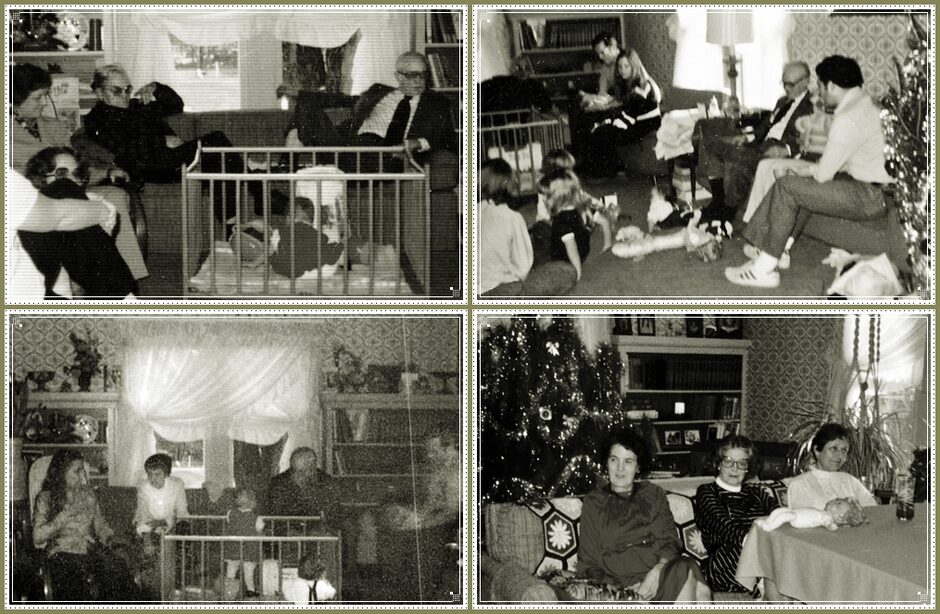 ---
Announcements
Submitted by Bobbi Spiker Conley – Sue Ann Spiker and her farm are seen in a recent episode of DIY Network's show, Barnwood Builders. While doing some internet research on – what else – the Spiker family, I stumbled across a behind-the-scenes look at the filming of this show in Jane Lew. 

According to JoLynn Powers (aka Mountain Mama,) the DIY crew was demolishing a 120 year old barn in Kincheloe, WV, and repurposing the remnants as supplies for her and her husband's home renovation. (You can see photos of the barn & the "Before Pics" of the home, here.)

"As part of every episode of Barnwood Builders, (host) Mark Bowe always likes to show off other skilled craftsman or tradesman who do things the old-fashioned way," Mrs. Powers said. "So when producers from the show discovered that (my husband) Tom was a farrier, they were thrilled to add his skills to their show. To film his farrier skills we needed a willing client and a farm to work at. We were able to contact Sue Ann Spiker, also from Jane Lew, and include her and her farm in the last portion of the filming of this episode.

"Tom has worked for Sue Ann for years," JoLynn continued, "and when Tom was in middle school she was his Art teacher. When setting up this portion of the show Tom and I needed to find a horse and farm family willing to have a film crew on the farm.  Tom thought of Sue Ann's horse farm right away. Sue Ann and her husband, John, have historical buildings on their farm.

"This also excited the show producers and we ended up not only shooting Tom with Sue Ann holding her horse, but getting a guided tour of their Guest House, Barn and 1700's cabin (shown here in a pic from JoLynn's blog.) A real treat for everyone that was on set that day."

To read the rest of this behind-the-scenes story, follow this link to Mountain Mama's Blog.

You can view the Barnwood Builders episode titled "Saving Every Board from a Kincheloe Cattle Barn" on the DIY Network on Christmas Day at 2:00 PM.  It will also air on December 27 at 5:00 PM and January 12 at 1:00 PM.  Visit the Barnwood Builders website for the complete schedule.

Katie Spiker Shaffer – "I have a framed wedding picture of Grandpa and Grandma (Brad & Alice) Spiker along with a Christmas letter grandma wrote to grandpa while he was away at war. It hangs above Adalyn's changing table in our living room. 

Lucinda is Adalyn's middle name, which was grandma's middle name. (And coincidentally, she was born on Aunt Adelene's birthday.) Every time we change her, she looks at that picture and is content to stare at it. It is so sweet."

Editor's Note: We first told you about this letter, written in 1944 by Alice Spiker to her husband Brad, in the January 2010 edition of the Spiker Family Gazette.  A transcribed copy and a larger image of the letter are filed away in our Library. Take a look.*